Update 9/7/18: The Chrome 68 will be launched on the 24th of July, and will indicate as "not secure" every HTTP site.
How often do you visit the Papaki's blog or website? Have you ever noticed the green padlock on the left corner in your browser address bar? Yeah! That's right! It's time to remember a few things about online security, encryptions and HTTPS!
One year ago Google browser was preparing to set warning icons for http websites and change the way things operated so far.
Chrome started by tagging the pages who collect personal data (for example, sign up forms, newsletter subscriptions, personal accounts) or credit cards, and expanded it to incognito mode. Now we are one step before the "judgment day!".
According to Google's blog post released on February 8, Chrome – in version 68 – will "mark" all HTTP sites as "not secure", starting in July 2018.

What applies for Firefox & Safari?
Chrome, however, is not the only one who decided to do this. It is a collective effort by the IT industry to protect online users.
Mozilla Firefox is going to take the next step and add a permanent warning to all HTTP sites. Firefox Nightly, a pre-version of Firefox59, warns users when they visit any HTTP site, regardless of whether they need to fill in their personal information.
If you use Firefox browser and want this feature, you can activate it manually.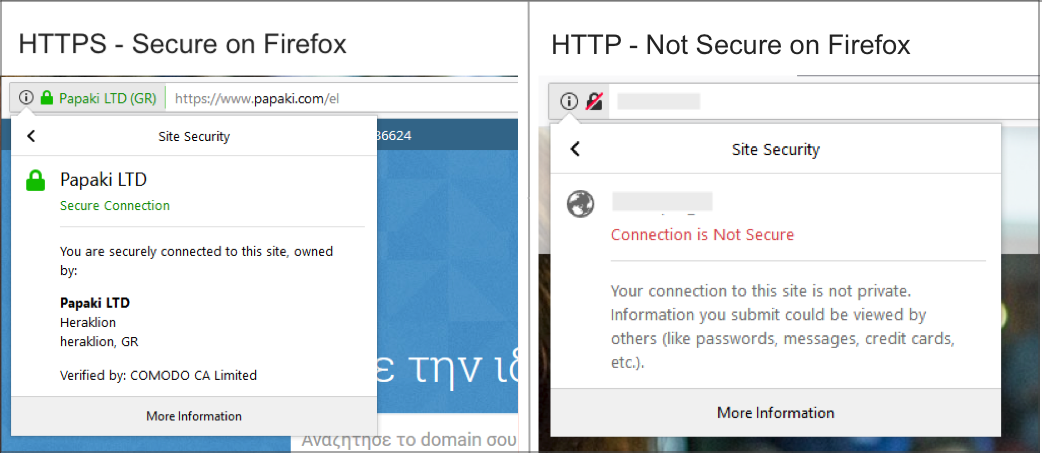 How do I enable this setting?
If you want to enable this permanent warning, first install the new Nightly 59. Next, type in the address bar "about:config". By tapping Enter, you will see many different configuration options. In the search field, look for "insecure_connection_icon.enabled". By double-clicking on "insecure_connection_icon.enabled" the function will be activated.
Safari also, follows the Firefox and Chrome steps, warning users about HTTP pages. The Safari Technology Preview version 46 released for MacOS Sierra and High Sierra brings a major UI change. Now a security warning appears in the Smart Search field (the address bar) when users enter their password or credit card information on a http page.
My site is HTTP! What should I do?
You need an SSL certificate immediately! An SSL keeps high your website's ranking high and adds some other positive features. Let us see what some of these are:
SEO: Google's algorithm rewards you with better ranking in search results!
Website Performance: Because of SSL, your site benefits from the HTTPS speed. Speed is another criterion for better ranking in search engines.
Trust: trust marks create a sense of safety. Your visitors feel secure to complete a purchase.
At Papaki you will find SSL certificates that suit your needs- To help you decide, let's check below different types of SSL.
| | | |
| --- | --- | --- |
| DV | OV | EV |
| Blog | Business with online transactions | E-shop, e-commerce website |
| Small business | Website with login section | NGO |
| | | Bank, Financial institution |
Even if after all these information you stil haven't been made up your mind, don't hesitate to contact our support department to help you find, what is best for your website.
Here in Papaki our purpose is to help you understand the value of protecting your online data, provinding you informed solutions.