Last week (7-12 / 10) festivities were in order. Our office was filled with balloons and sweets while various activities were added to our agenda, such as assault bike competition, photo challenge, quiz for colleagues. It was the National Customer Service Week, organized by HICS (Hellenic Institute of Customer Service) and we were actively involved, to honor our Support Heroes one more year.

Only this year, there was something different. Our smiles were a little bigger. That's because we knew we were celebrating some of the major changes this year brought to the Support Department. Would you like to know more about that?
New system!
There are various requests handled by Papaki Support. Our Support Heroes chat daily, helping our customers stay happy online through tickets, chats and phone. Have you ever thought about how we manage these requests? But of course, through a well-implemented system.
Until recently, this system was Kayako. A tool in a hosted infrastructure that gave us many opportunities. It helped us grow, build a strong customer service department, but it turned out to be not what we needed to take the next step. Our needs increased and so we had to find another solution.
Research was not a process that we took lightly. We have been looking for about 2 years, in collaboration with various departments of the company. In the end, Deskpro gave us everything we were looking for, even with respect to GDPR specifications. On cloud infrastructure, Deskpro offered us, among others:
• Statistical analysis of the course of requests
• Automated separation of requests for immediate service
• Higher speeds to complete actions
• Quick search and retrieving of customer history
The new features have resulted in great improvement, in terms of service quality. The investment we made has made our smiles wider.
Group restructure
The new system has shown us the way towards internal change. We decided that it would be better to divide our team into smaller subgroups, dealing exclusively with a specific customer communication channel.
So it happened. There is now one group that mainly handles chat requests, another group for ticket requests and another one dealing with phone requests. In practice, this has proven to significantly improve our response times, as well as the quality of our services!
Next steps
Having already made these two radical changes to our Customer Service, we are now able to smile more and celebrate weeks like Customer Service with a bigger smile! But of course, we can always do better and we will always try to go the extra mile. So the changes we have for 2019 don't stop there.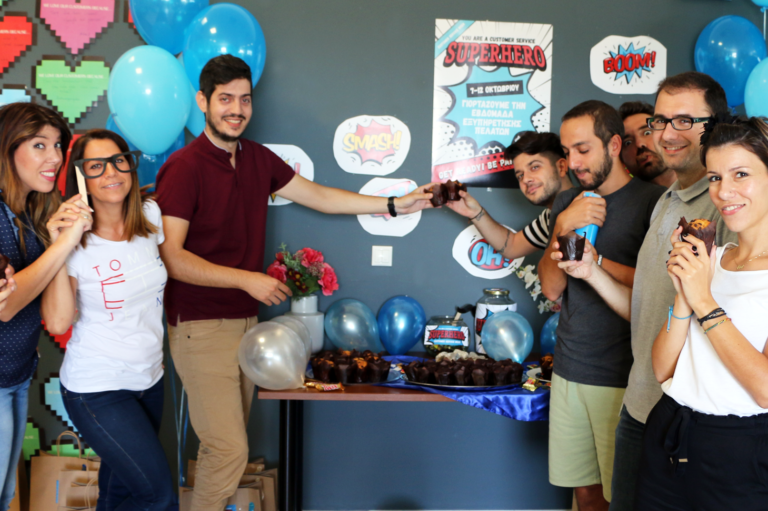 The big project currently underway is that of refurbishing our Knowledge Base. We know this is a very useful tool for most customers, offering quick and easy answers to their queries. So, we are in the process of renewing it. Soon, Papaki's fresh Knowledge Base will be live, hoping to help our customers even further.
We hope all of the above details have helped you know us a little better and possibly inspired you!