In a world where the customers' minds and physical spaces are inundated by products, services, information and advertisements, a unified, comprehensive and integrated strategy is the right way to achieve the best out of your efforts and deliver a seamless customer experience.
The proliferation of channels through which businesses can reach their consumers has created the need for an integrated approach to marketing. This helps maintain consistency in brand messaging.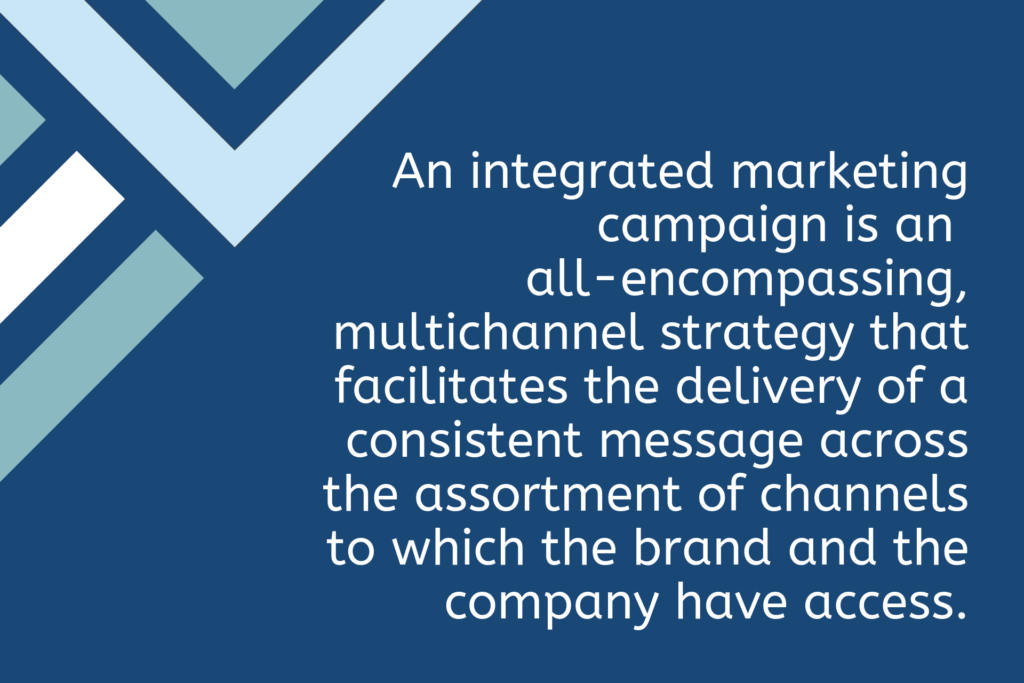 These include traditional channels such as television, radio, telemarketing and display advertising to non-traditional channels such as direct marketing emails, blogs, text messages, and social media.
Why use an integrated marketing approach?
An integrated marketing approach allows your brand to resonate better with customers. A consistent message across channels helps develop their trust and loyalty in you, which in turn affects your sales and profits. It also helps save time and money because when you are trying to achieve consistency, there are always creative assets that you can utilize across more than one channel.
With all members of your team working towards a single goal, your teams, budgets, and workflow would be better organized and more efficient. An integrated campaign, however, is inevitably complex, involving an intense level of planning, collaboration, monitoring, and analysis. Adopting these six steps in your campaign planning will help you approach the objectives in a more efficient and better-coordinated way to maximize results.
1. Define campaign objectives
Before you begin, it is important to predefine the key goals so that you can align your resources and structure the various steps in your strategy. Before you dive into planning, discuss with your key decision-making team on what the purpose of your campaign is:
Create brand awareness
Attract new customers
Strengthen brand loyalty
Increase revenue
Create meaningful brand partnerships
Your prime objective could be any one of these or a summation of a few of them. Listing them out will lend a sense of organization to your campaign, and also make it easier to track your progress. You can also implement changes along the way if the campaign is deviating from its end result. Lack of clear objectives may give the impression that the thought process behind the campaign is weak, greatly limiting the results it has the potential to achieve.
2. Know your target audience

Creating the persona of your target audience will help you identify the right channels and determine the voice, content, and packaging of your campaign message. The persona you create should help you in getting to know your customers both demographically (age, location, gender, education) as well as psychographically (beliefs, interests, behavior). Below are a few points you should consider when creating your audience profile:
Job title
Industry
Education level
Personality type
Income group
Spending habits
Personal goals
Their idea of success
What kind of content they consume
Which media do they use to find content
What blogs/magazines/newspapers they read
What kind of events they attend
3. Define your core messaging
Come up with a few lines that describe the core messaging of your campaign. Decide on the campaign voice and tone—which should be in line with the brand's—and communicate it well in advance to your team so that they know how to maintain it in all their work and communication.
One of the ways to maintain consistency in your core messaging is to refine the details. For example, let's assume that an eCommerce business is launching its new product line. You can create a domain name that can be used as a branded short link on social and other marketing communications.
On Twitter, your messaging could be: Try our new product at www.product.store
On Instagram, you could create a new account with the username being: product.store
On banners and ads, you can use the URL to direct users to the page: www.product.store
4. Pick your channels of communication
Any integrated campaign requires the use of multiple channels by default. Today, sifting through a large number of traditional and digital channels—each catering to their unique set of audience—can be rather intimidating for even seasoned marketers.
Ultimately, it is your audience persona and your campaign objective that can best help determine the right channel for you. The way you pair your selected channels also impacts your reach. An analysis by USA TouchPoints looks at the most common pairings for multichannel marketing:
Computer-Mobile
TV-Mobile
Computer-TV
Radio-Mobile
Computer-Radio
While Computer-Mobile is the most popular during working hours (9 am-5 pm), TV-Mobile takes over in the evening (5 pm-11 pm). Having a clear understanding of the demographics and content consumption behavior of your target consumers will allow you to make a wise choice.
You should also factor in the nature of your industry, your brand personality and the expertise of your team. Don't be afraid of going away from what everyone is doing and trying a new channel that best suits your brand and your consumers. For instance, while Facebook may seem like an obvious channel worth utilizing, there is no point in being on Facebook if your audience isn't active on the Internet or social media. For such an audience, a traditional channel such as radio or television could be more effective.
5. Get your team together

Once you have your campaign plan in place, you will need to ensure that you put the right people on the right job. Do you have enough competent people to create content in-house? Is your team experienced in creating and managing content across multiple channels? Does the team have the bandwidth to take on an integrated campaign? All of these questions will determine how you plan the execution of your campaign and whether or not you need to engage third parties for your content, design or consultation needs.
The larger the size of your team, the more important it is to have a clear workflow and communication lines in place. Creating a campaign brief and sharing it with all teams invested in the planning, execution and monitoring stages will ensure that everyone is on board with the campaign objectives and knows what they are required to do. Using an online management tool such as Asana will help keep track of deadlines and progress and maintain transparency.
6. Monitor the campaign
A multichannel integrated campaign cannot, by definition, resort to a single success factor. One needs to put in place proper tracking and analytical mechanisms to monitor the campaign across various stages and channels. For this, it is essential to identify the key performance indicators (KPIs) that you think would be the best measure of your campaign's success.
Monitoring your campaign at different phases will not only provide early learnings on what you must do in your future campaigns but will also help you assess the strengths and weaknesses of your current strategy, resources, and team. This will allow you to make the necessary changes at the right time to ensure that your campaign stays on track and maximize the chances of its success.
Conclusion
Seamless customer experience comes from brand recognition, trust, and loyalty, which, in today's day and age, can only come from an integrated marketing approach. With meticulous planning, unified implementation, and effective monitoring, such a campaign can have far-reaching impacts on not just your customers' perception of your brand, but also on your organizational efficiency and team morale.