Having engaged subscribers who will support you throughout their customer journey is necessary to promote long-term growth.
Sometimes, though, no matter how many emails you send, your messages don't seem to resonate with your subscribers resulting in disengaged subscribers who will hardly open and click-through with your amazing email campaigns.
Failing to connect with your audience can be a major problem that will get you one step back, so the best thing you can do to ensure the growth of your business is to find a way to boost engagement among your email subscribers.
To give you a helping hand, here are the best ways to increase your email engagement and get your business two steps forward.
1. Social-proof your email campaigns
To understand what social proof is, I urge you to think of a time when one of your friends recommended a product to you and you, convinced by their arguments and concrete results, bought that specific item.
Well, trust me when I say that I never owned an electric toothbrush until one of my friends told me that it can actually help me brush my teeth better.
If the same thing has happened to you, then you can understand that social proof is a phenomenon wherein people will copy the actions of others to enjoy the same positive outcome and benefits that their peers highlighted.
When it comes to building an effective email marketing strategy, social proof is your powerful ally to increase the credibility and trustworthiness of your messages and show your subscribers that what you promise is true.
Social proof can take many forms such as consumer reviews, influencer endorsements or ratings and is one of the best elements marketers use when they create a landing page to supercharge their conversions.
Surprisingly, the same thing can happen to your emails. For instance, an eCommerce store can display the ratings of specific products to boost their email subscribers' engagement and show them that the products work as promised:

2. Segment your mailing list
List segmentation is your secret weapon to deliver more targeted messages and increase engagement among your email subscribers. If done right, email segmentation will solve the problem of disengaged subscribers who won't click on your emails due to irrelevant email content.
As segmentation will help you segment (or group) your subscribers based on specific criteria like age, profession, geographical location, etc, using it will allow you to increase the relevancy of your content and the success of your campaigns.
For instance, targeting an 18-35 age group with content that is meant for an older audience won't give you the opens and clickthroughs you desire. Targeting them with a campaign, though, that will have the things your 18-35 audience wants to see will give you a huge engagement boost.
To start segmenting your subscribers you can either let them fill the personal information in when they subscribe or, for existing subscribers, send them an email asking to update their preferences.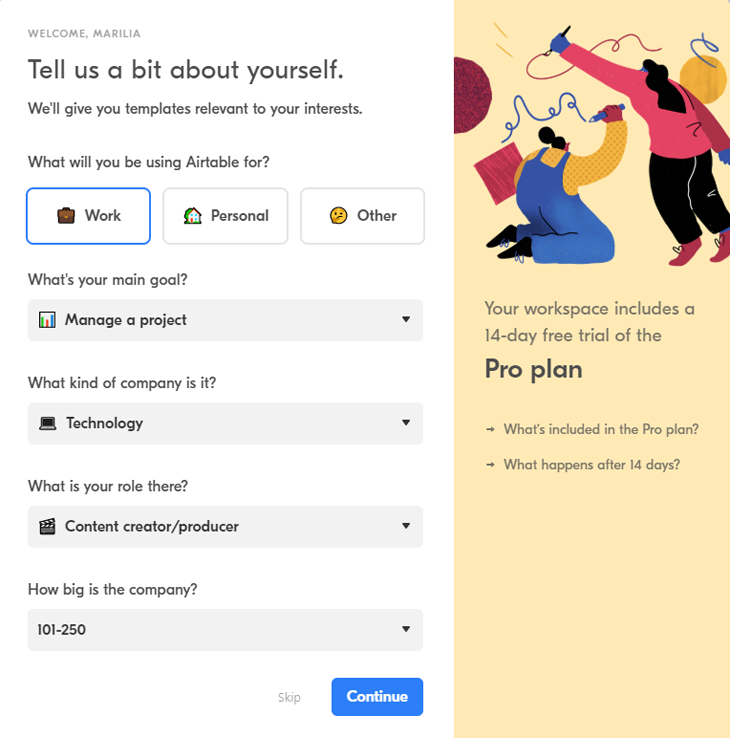 Sending content that is tailored to your subscribers' needs is absolutely necessary to maintain list hygiene and increase your email deliverability. Since you need to maintain a good sender reputation, minimizing your bounce rate by sending the right message to the right person will help you increase the overall success of your marketing endeavors and give you concrete results.
3. Show them the value
Promotional emails are amazing to boost your conversions and skyrocket your revenue; however, bombarding your email subscribers with sales-y emails can be a major deal-breaker.
If you want to boost your email engagement, you need something more than a simple promotion to show them how much you value them and how much you want to help them improve.
The easiest way to do it is to come up with a specific email campaign that will focus on educating your email subscribers by sharing tips on how to use your products better.
For example, Nikon has come up with a "Learn and Explore" email series that consists of various tips meant to nurture their photography-loving audience, inspire them and show them how they can capture better pictures like pros.
Here is part of Nikon's email: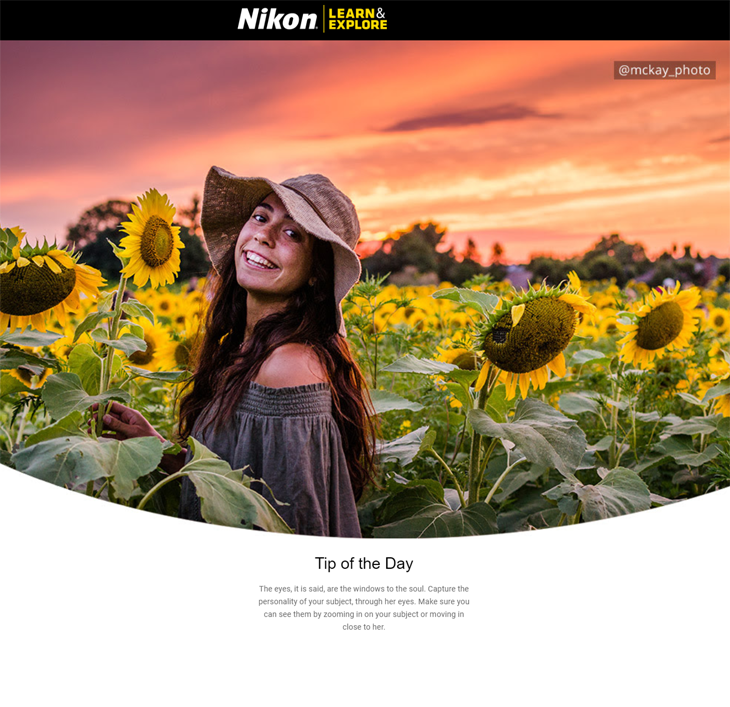 Offering exclusive tips to help your subscribers improve aspects of their daily lives through your products is one of the best tactics to effectively boost engagement, nurture your leads and make your audience wonder when your next email will arrive.
4. Personalization all the way
The era of the one-fits-all email is unfortunately over. As a result, you need to find a way to deliver unique user experiences to your subscribers that will incentivize them to click and engage with your emails.
One of the best ways to boost email engagement is to use personalization. Personalization is a tactic that the majority of modern marketers use to make their subscribers feel like the emails they receive are custom-made, focusing on the individual rather than the whole. As email marketing statistics show, personalization is so effective that it can increase your open rate by 29%.
If you want to make your emails more targeted and personal, then you should make your subscriber the main point of focus and deliver an incredibly personalized experience. For example, using your subscriber's first name in the subject line or email body is the best way to make the message more personal.
Here's how Michael Kors does it:

5. Create CTAs that stand out
Let's start with a simple statement: humans get easily distracted. While you might think that this is something trivial, the art of concentration is something that not everyone possesses. While some will take the time to engage properly with your email, others will get distracted and close it without even clicking on your call-to-action. So what can you do about it?
To guarantee the success of your CTAs, you need to deliver them in a way that they will grab your subscriber's attention at first glance.
If you want to create the best email CTAs to get even the most absent-minded subscribers to click on them, then keep the following in mind:
Define the purpose of your CTAs
Use the right colors to make your CTAs pop
Use a powerful copy to increase their effectiveness
Leverage white space to make them stand out
Combine them with eye-pleasing visuals
If you follow all these then you should come up with an incredible email CTA that will be as amazing as this one by Charity Water: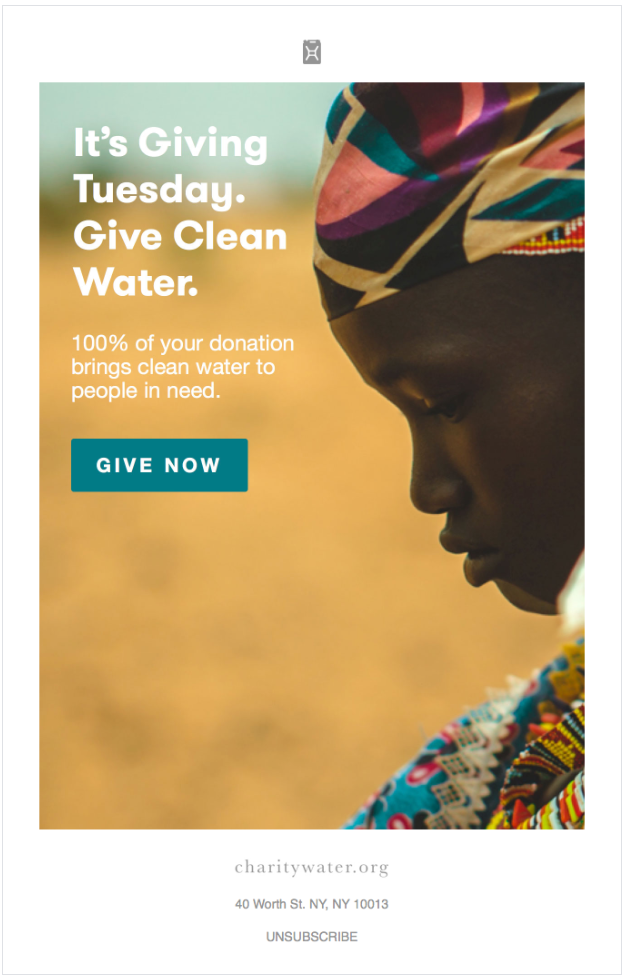 6. Have killer subject lines
Your subject lines are the first thing you email subscribers will see when they check their inbox. As an email user yourself, you might have come across subject lines that looked like this: December Newsletter. While there's nothing bad about this subject line, you have to admit that subject lines like this lack imagination and creativity.
Creating irresistible subject lines is your gold ticket to land more opens and clicks, so if you really want to boost your engagement you have to deliver something more than a two-word subject line that looks boring.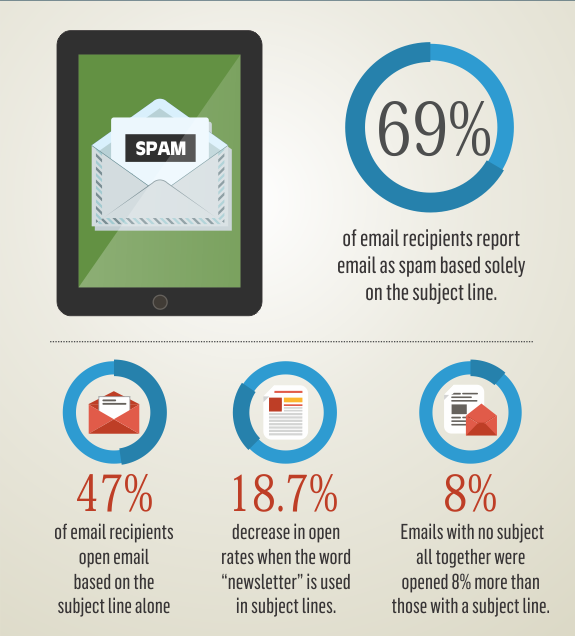 Coming up with a killer subject line will intrigue your subscribers and incentivize them to click on your emails out of curiosity.
Here are some of the best subject lines from my inbox:
"Santa Claws is coming to town!" – Happy Socks
"Trust no one. Guard your shopping bag." – Diesel
"Been baddie this year? Good." – Morphe Brushes
"Honey, We Shrunk The Bags" – Michael kors
"Baby it's gold outside" – Mejuri
7. Perform A/B Tests
When you run an A/B test, you take your original design, also known as control, and create different variations for the purpose of discovering which version performs better. Running a successful A/B test will allow you to implement certain changes to your email campaigns to improve user experience and boost engagement.
From simple changes like a different subject line to more complex ones like using different visuals and copy, testing your email campaigns can help you increase your open and click-through rate and show you what elements make your subscribers click.
To get started with email A/B Testing you need to create a variation of your original email campaign using your email editor and then send it to two different groups of subscribers. Then, what you need to do is to monitor how your subscribers engage with the two versions of your emails and which can generate the most opens and click-throughs. After you collect your data, you can use them to optimize create the ultimate email campaign that will boost your lead generation and engagement beyond measure.
Takeaway
Having engaged email subscribers is your way to reach the top. To do it, though, you need to take into account your subscribers' need for content that delivers amazing user experiences and gives answers to their pain-points.
By using social proof, segmenting your mailing list, personalizing your emails, testing them, coming up with amazing subject lines and irresistible CTAs you can step up your email marketing game and enjoy the benefits of an engaged mailing list that won't miss the chance to interact with your business.