Webinars are a great way of marketing your resource. Through a webinar, you can reach a large group of people from a single location. You can have one to one conversation with your prospects through interactive opportunities such as:
Chat
Poll
Survey
Ask a question
Test
Webinars are very useful for the growth of businesses and communities. They are also a cost-effective way of connecting with people. Many virtual classrooms such as Connect, Adobe WebEx, etc. have all the tools required to keep your session on track.
If you want more audience turnout in your webinar, you need to plan and market your event in an exciting way. In this article, we will discuss the ten best tactics to increase webinar participation.
10 best ways to drive webinar attendance
1. Start with an engaging title
Before you do anything, narrow down who your target audience is going to be and then select topics that would be most engaging to them. If you plan well in advance, you can conduct a poll between two-three topics and see which one interests your audience the most.
2. Create a great landing page for registration
Your landing page will have all the essential information about your webinar. Highlight who your host will be and if you'll have any guest speakers. Will you be highlighting any specific product and its use in the session? Mention that on your landing page. A well-prepared registration page will help you in attracting more audiences. Give your audience enough reasons to register for your webinar.
3. Register your webinar on a great domain name
The domain name will be one of the most crucial elements of your webinar. It's what you will communicate with your audience and it'll be a part of all your digital communication. Today, with over 1200 new domain extensions such as .ONLINE, .SPACE, .SITE, .FUN, you could give your webinar a cool online identity. For example, the domain name of your webinar could be www.[webinar name].online or www.[webinar name].space.
4. Set a goal for the number of registrants
Before marketing your webinar, you need to set a goal of the desired number of attendees. Know the number that you're going after and plan your strategy accordingly. Set follow-ups to ensure that the people who've shown interest in your webinar, register for it. Maybe add an incentive such as a one-month free trial or a free ebook to those who register.
5. Select the right day of the week
When you plan to host the webinar plays a crucial role in how many people attend it. Avoid weekends and consider keeping it on either Tuesdays, Wednesdays, or Thursdays. You could organize the same webinar thrice a week to further increase your attendee number.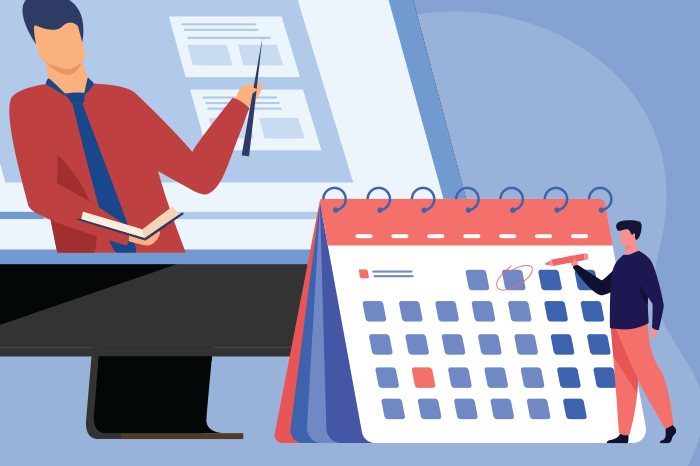 6. Be mindful of the time you choose for the event
Is your audience local or international? If it's a mix of both, consider the time zone from where the maximum number of registrations have been received and set the time accordingly. Communicate the date, time, and time zone to all your attendees multiple times before the session. You could also send them a link to the calendar so that they can block the time on their calendars in their time zone.
7. Follow-up with those who have registered
Set up three follow-up emails with more information about the webinar such as the guest line-up, topics of discussion, and maybe an ebook or a free subscription of a product. You could also send out polls related to the topic. Not only does this achieve your objective of reminding the attendees about the webinar, but it also keeps them engaged throughout the process.
8. Make the most of social media
Social media is the tool of the people. Make the most of it by promoting your webinar on it. You could also have your guest speakers post about the webinar and ask their audience to join it.
It would help if you increased the frequency of reminder updates towards the approaching date. You could also create a special hashtag for the event which can be included in all your digital communication.
9. Make the most of paid media
Whether it is paying influencers to spread the word or pushing some budget on doing paid promotions on social platforms–adding some money behind promoting your webinar could significantly increase your reach which, in turn, could improve your overall participation.
10. Ensure smooth video experience in the webinar
The most important part of a webinar is a good video conferencing tool. By picking the right tool, you could significantly improve the quality of your session. A few such tools that could explore include:
Zoom
Zoom is a cloud-based conferencing tool. It provides live and on-demand video services. You can also add a video chat option to group events listed on your online calendar.
Loom
The Loom is compatible with Mac, Chromebook, and Windows. It is a software used for video recording. This app can record your live screen activity. The tool is useful for pre-recorded webinars, single-hosted experiences, and slide presentations.
Go To Webinar
Go To Webinar helps you organize branded webinars with automated email invitations that can lead to an event. Through this app, you can follow up with the attendees, even after the webinar. Here you will also get to know who all had attended the event.
You can also apply some additional tricks together with the ways mentioned below:
– You can help in organizing the participants by setting time frames. If you limit the number of offers, your event will be presented as more valuable to them.
– Offer discounts to the first 10, 50, or 100 participants.
– You can offer gifts for instant registration.
– Arrange an individual consultation for people who pay before the mentioned date.
– Share useful content for free.
– Reviews, recommendations, and reputable partners bring more confidence than advertising.
Conclusion
Preparation is an essential element in organizing a successful event. Entertain your audience by providing them value and making the event fun for them.. You can record the webinar and then send it to your registrants afterward. Lastly, make sure you get feedback so that your next event is bigger and better.