The 70th version of Chrome is now available and, finally, what we were talking about for so long, is now live: the red "not secure" in HTTP websites.
The chances of you not having seen it yet are high, since most websites resort to the safer path of encryption and become HTTPS, using SSL certificates. These numbers are growing, which is a hugely positive sign!
However, even today there is a big number of websites, which have yet to acquire such certificates. In a few words, there are still many websites, which do not offer encryption, rendering themselves vulnerable to easier attacks by third-parties.
Chrome will help you recognize these websites easier, with its now clearer negative indication for them.
According to the announcement in Google's Chromium Blog, after the ''not secure'', which was launched in the 69th version of Chrome, it was time for the warning sign to become red-colored. At this phase, this sign appears only when a user, browsing in an HTTP environment, attempts to fill out a form with his/her personal information. We still don't know whether this warning will become permanent for HTTP websites.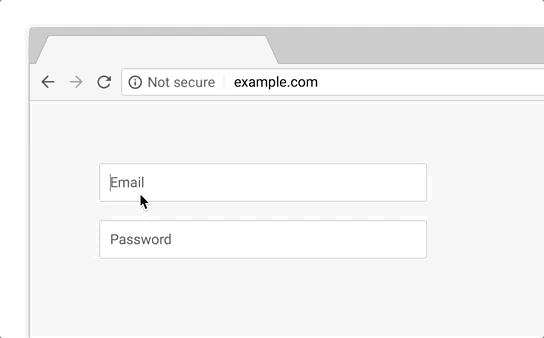 In case you are, besides an Internet end-user, also a website's administrator, you should not neglect to provide encryption. SSL certificates are the only way to ensure that this negative warning won't show up in your website.
Make sure you own a certificate and check whether it is still valid. For example, if you own a SSL issued by Symantec CA before December 2017, your website is now facing a serious problem: visitors are facing a full-screen ''welcome message'' saying that your connection is not private! This results from Google finding enough safety gaps to not trust anymore all the certificates issued before December 2017, by this particular company.
Useful links
Below, we provide you with some interesting links regarding Chrome, SSL certificates, and encryption.
Updating Chrome – If your Chrome has not been automatically updated yet, you can manually update it by typing chrome://settings/help in the navigation bar.
Choice of SSL certificate – Here you can see the types of certificates provided by Papaki and choose the one that fits you best. You may also find useful an article that we have posted in Papaki's Blog, on differences between free and paid SSL.
Information on the certificate each website uses – There is a way to see which certificate a website uses when you visit it. However, in case you are not familiar with this procedure, you can just visit this page and put the address you are interested in to check all the relevant details.
Monitoring the use of SSL – Google provides you with a number of statistics regarding the use of SSL worldwide.
We hope that you have found the above information useful, and from now on you can browse in your new Chrome without any doubts or questions!