At Papaki we do everything within our powers so that you can learn about all the news related to your online presence first! To this end, we would like to share with you a change about Comodo SSL certificates and of course we aim at clarifying any questions you may have.
It has been over a year, after Francisco Partners moved towards Comodo CA merge, thus the Comodo SSL certificates issuing authority. Comodo Group that used to own Comodo CA will continue, but without issuing SSL certificates any more.
All that did not have any significant impact on users choosing Comodo SSL until recently. But now there is a change in branding that you will notice, sooner or later, in case you are one of the million users having selected such a certificate: Comodo SSL are renamed into Sectigo SSL!


So this is rebranding in essence, which Fransisco Partners deemed necessary, wanting to differentiate from the name of their predecessors and also to avoid confusion on behalf of the public. In regards to this development, we share with you some details that are important to know.
10 things you need to know
1) The new identity of these SSL certificates does not alter their credibility. Comodo CA which will be called Sectigo remains the largest issuing authority of SSL certificates with over 100 million issuances, to users in 150 countries.
2) If you have already installed a Comodo SSL, you do not have to do anything in view of that change. For the already installed Comodo SSL certificates you have purchased from Papaki, you will continue seeing Comodo as the issuing authority until they expire.
3) If for any reason you need to reissue your Comodo SSL certificate, after reissue you will just see "Sectigo" as the issuing authority. This does not cause any problem whatsoever.
4) For all Comodo SSL purchased from January 14, 2019 and forward, Sectigo will appear as the issuing authority!
5) Francisco Partners will complete its rebranding from Comodo to Sectigo at the end of 2019. The period in between is considered as transitional.
6) No extra charge will accrue for the end user, as a result of the rebranding. If Francisco Partners decides in the future to readjust its price rates, there will be a respective update on the prices from our part as well.
7) There is no change in the variety of certificates that former Comodo CA provided to this day, just a change in their branding. More specifically, according to Sectigo websites, changes are as follows: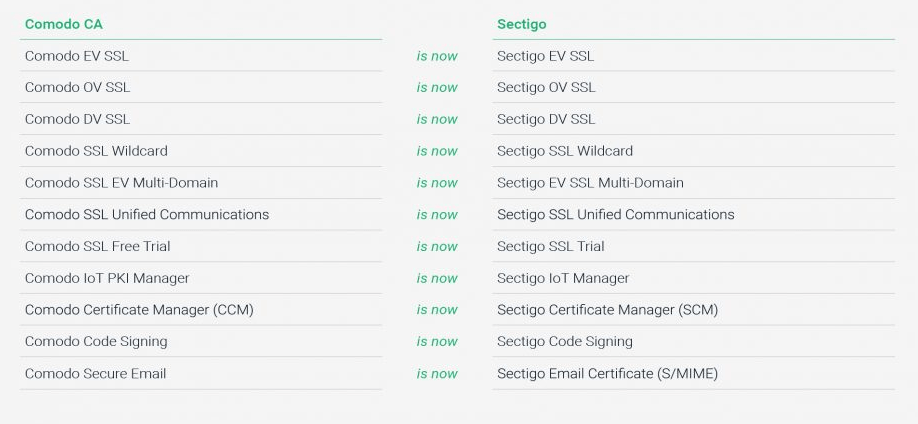 8) As Sectigo points out, rebranding will have no impact on its constantly growing team at a global scale, from the executives to the managers. The present know-how is maintained and the company's goal is to continue on providing innovative solutions for the future. All that, under the umbrella of the American Francisco Partners, of course, established back in 1999 and continuously evolving with investments in the field of technology.
9) There is no change provided by Sectigo, on the contact phone numbers. There will be gradual changes in the emails. In any case, if you send a message to a mail ending with "comodoca.com", this will be automatically forwarded to the new email addresses.
10) Soon at Papaki we will proceed to the replacement of the names and logos of Comodo SSL with those of Sectigo. We will keep you updated, obviously, about the changes taking place!
Bear in mind that this change is functionally similar to when we decided to turn from "Papaki.gr" to just "Papaki". Rebranding is quite frequent and is a process that should not make you scared or nervous. You simply need to know a new name: "Sectigo"!