Enartia loves sharing stories that will make you smile. Stories that give you an insight on the way we do things -a way that may inspire you a bit. One of our main corporate values is transparency: we communicate to the team but also to our customers anything that may have a value for them. That is why we would like to share with you the short story of our offices: the concept, the creative process and problem solving. Here are 5 great years in our new (or maybe old?) office.

How the story starts
There have been almost 5 great years since we moved to our super brand new office of 1200 square meters (12.916 square feet) back in November 2014. To understand the way that we have organized the office today, have a look at this image, where you can see where every department is located: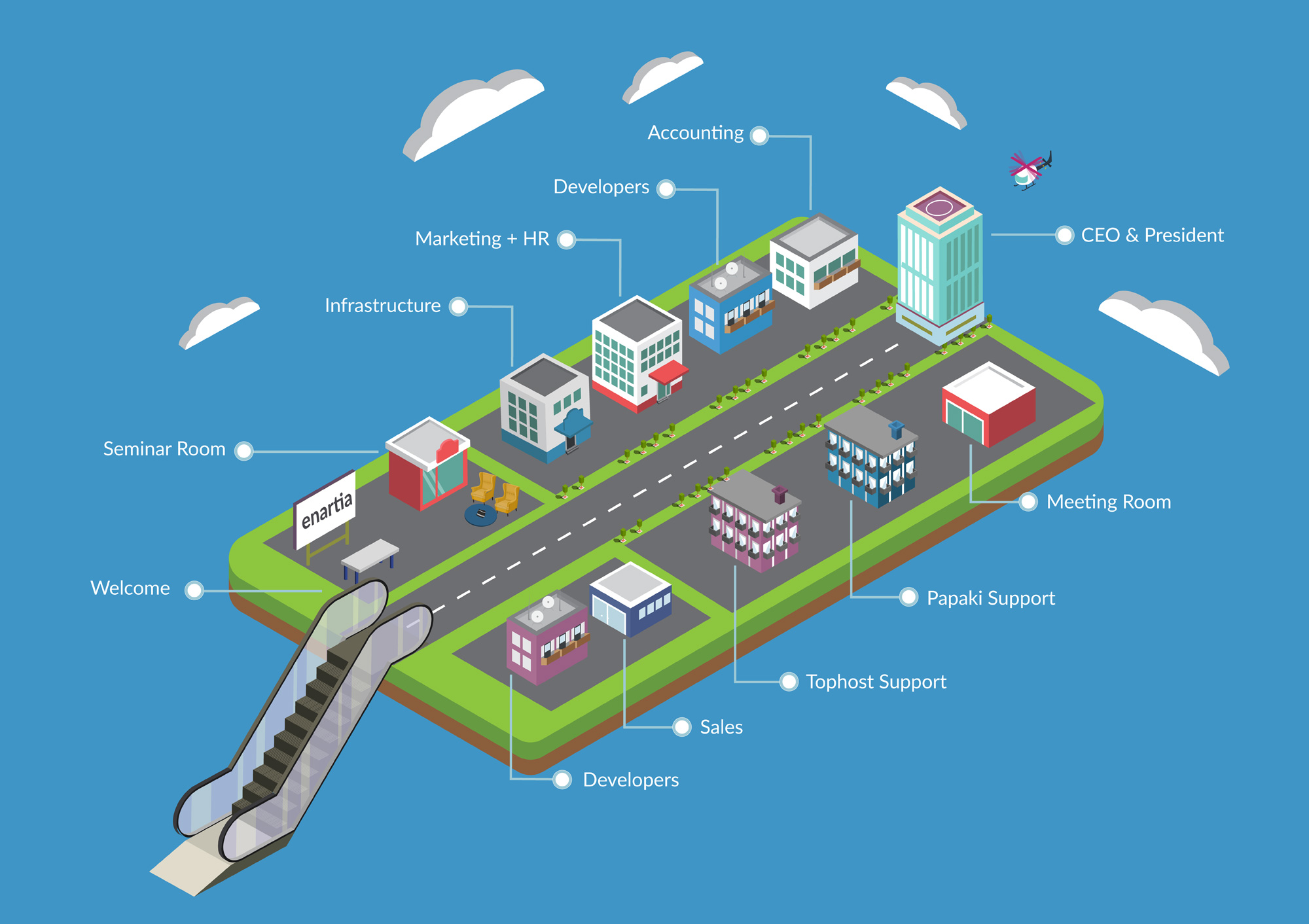 Of course, there are other areas like the kitchen floor, the main entrance, the yoga room, the playroom and the "cafeteria" space where we can prepare our meal, eat or have some fun with other people inside the company.


When we moved in November 2014 we thought that a new "huge" open space building could support our growth for the next 10 years or so, but it seems that we were wrong. You see, back then we were a team of 32 people and when our office designer asked us to predict the number of seats that we would need for the next years we thought that 50 seats in total would be more than enough. So she was kind enough to design for us a very nice open space for about 35 people and also keep other areas ready for another 15 seats for us to able to grow the next years.
Here are some nice pictures of our office back then: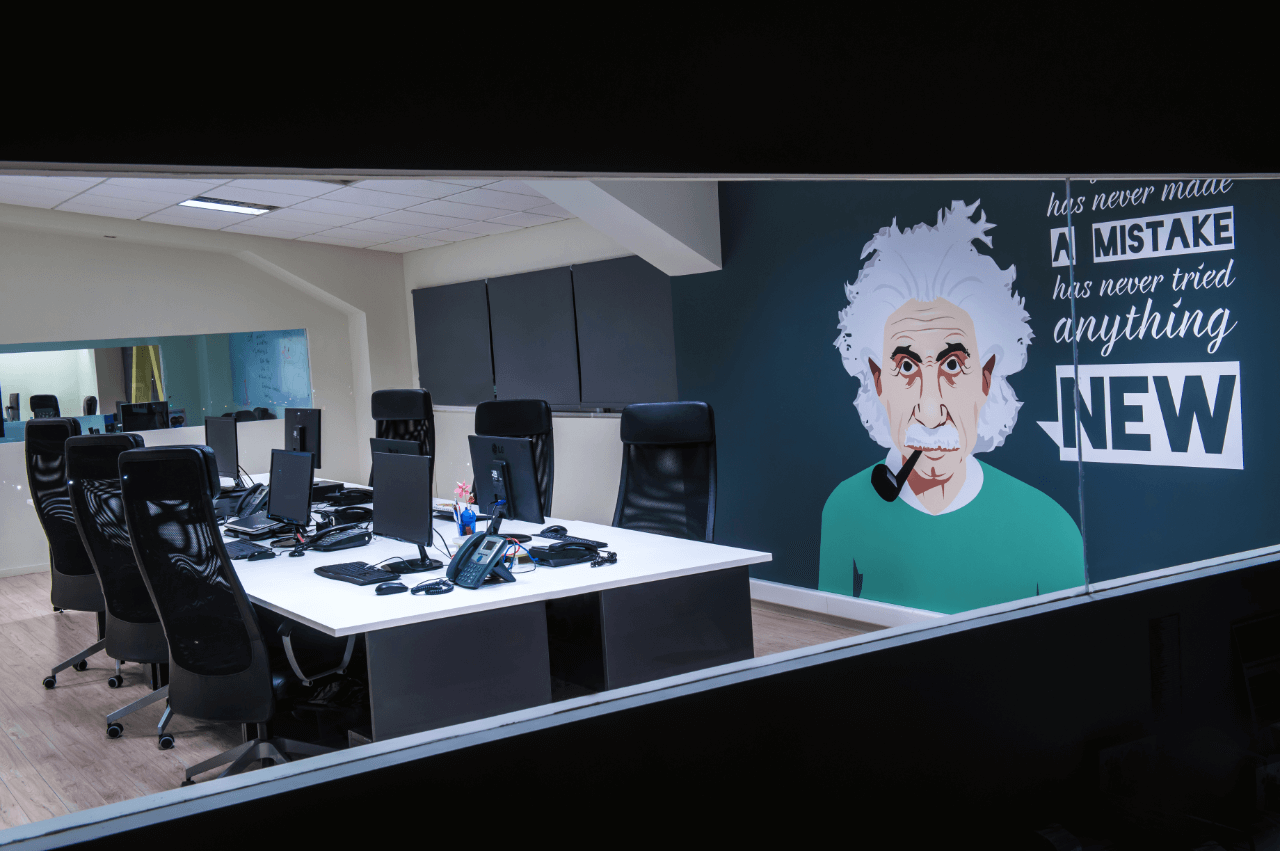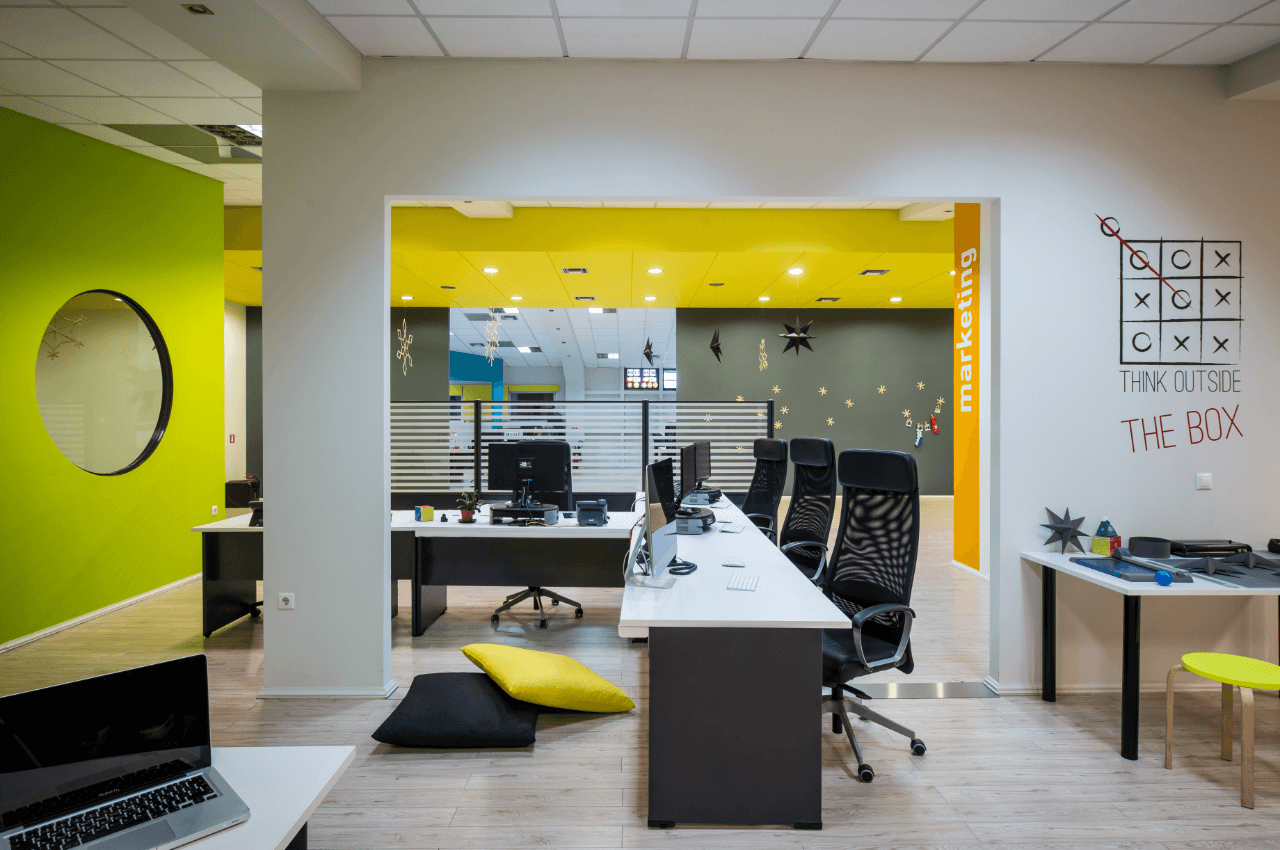 Of course, we also created one meeting room and one seminar room with capacity for over 30 people.

In Enartia we count every training hour so those areas are heavily used during these years. Last year only (2018) we had 3300 training hours, and in 2019 we have an average of 14 hours of training every day. By the way, here is the average training hours per person in our company for 2018 and 2019:
Training hours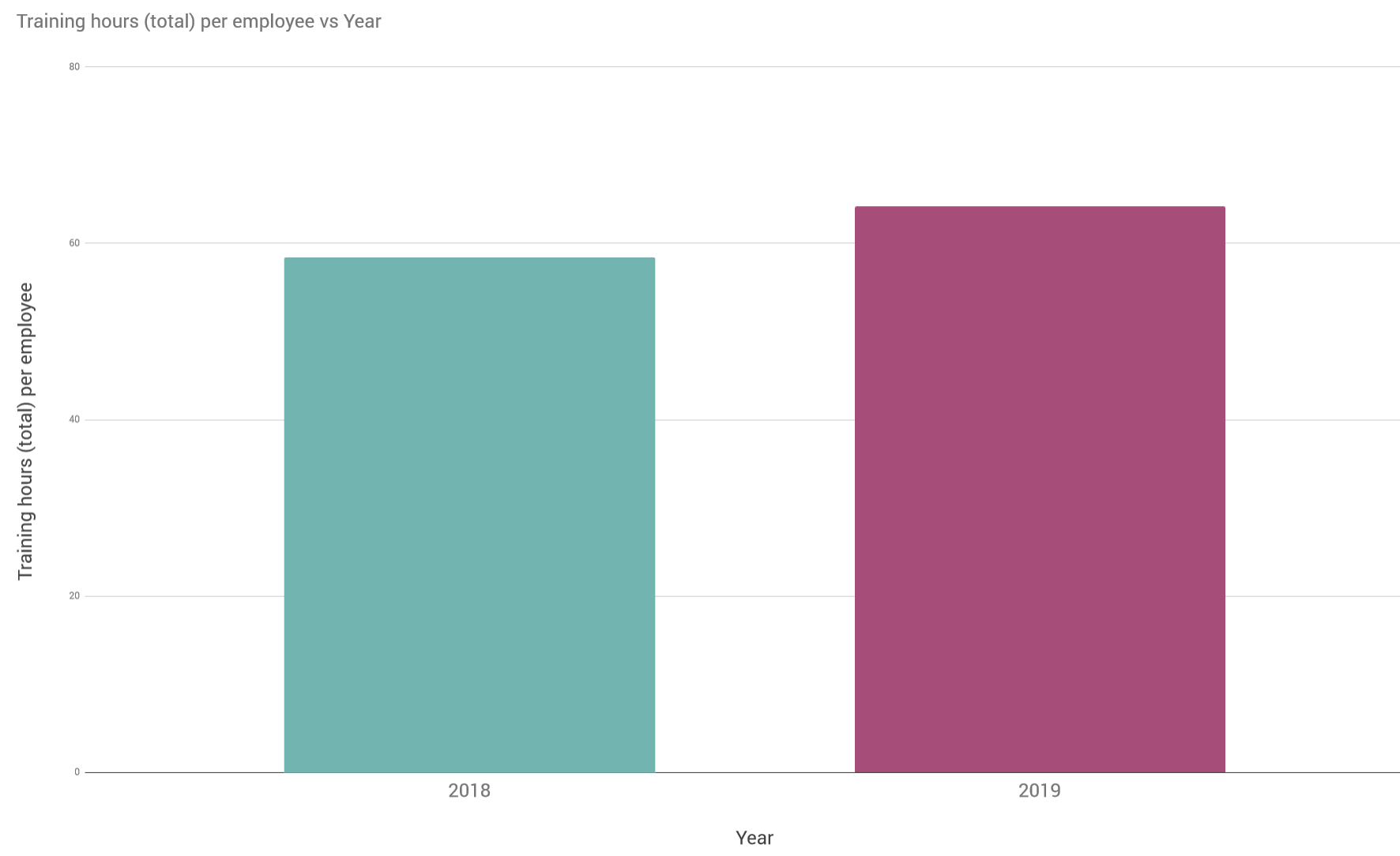 Having all these great spaces was the first step. Then our IT team made sure that every area was equipped with great and secure tools for us to do our daily work and this includes room projectors, ubnt wifi spots (we work mainly with macbooks), big screen TVs for network and call center statistics, network infrastructure for SIP phones and other devices, generators, computer room with racks, door system with RFID cards and pretty much everything that a modern working place needs for a great work experience. Plus everything is working using SSO (Single Sign On), something we added later.
In general we were (and are) very proud for our working environment since this is a main ingredient of our company culture, used for our goal to have "happy people" inside the company so they can make "Happy People Online" outside the company offering them "Extreme Support"!
What happens when your growth is bigger than your predictions
First of all, this is a nice thing to happen. It's better to be wrong and have a bigger growth, than being wrong and have slower growth or no growth at all. But still, you have to see your options.
Let's talk about what happened to us: To our surprise, we started to notice that 35 seats and 15 more for extra growth, could not cover our real growth. Just one year later (2015) our team jumped to 47 people and at the beginning of 2015, we were already 53 people. This means that in terms of people we grew 65% in 1,5 year. At the same time, the meeting and seminar rooms were always full, and people could not find areas to talk with others or make training sessions.
Suddenly we needed to take action in order to create more space and at the same time to make sure that all people would continue to work inside the office with the same comfort having the same great experience.
To solve this during the years, we had many great ideas, including the creation of different "Comfy Spots" where small teams could visit around the office and talk to each other. Here are some of these spots: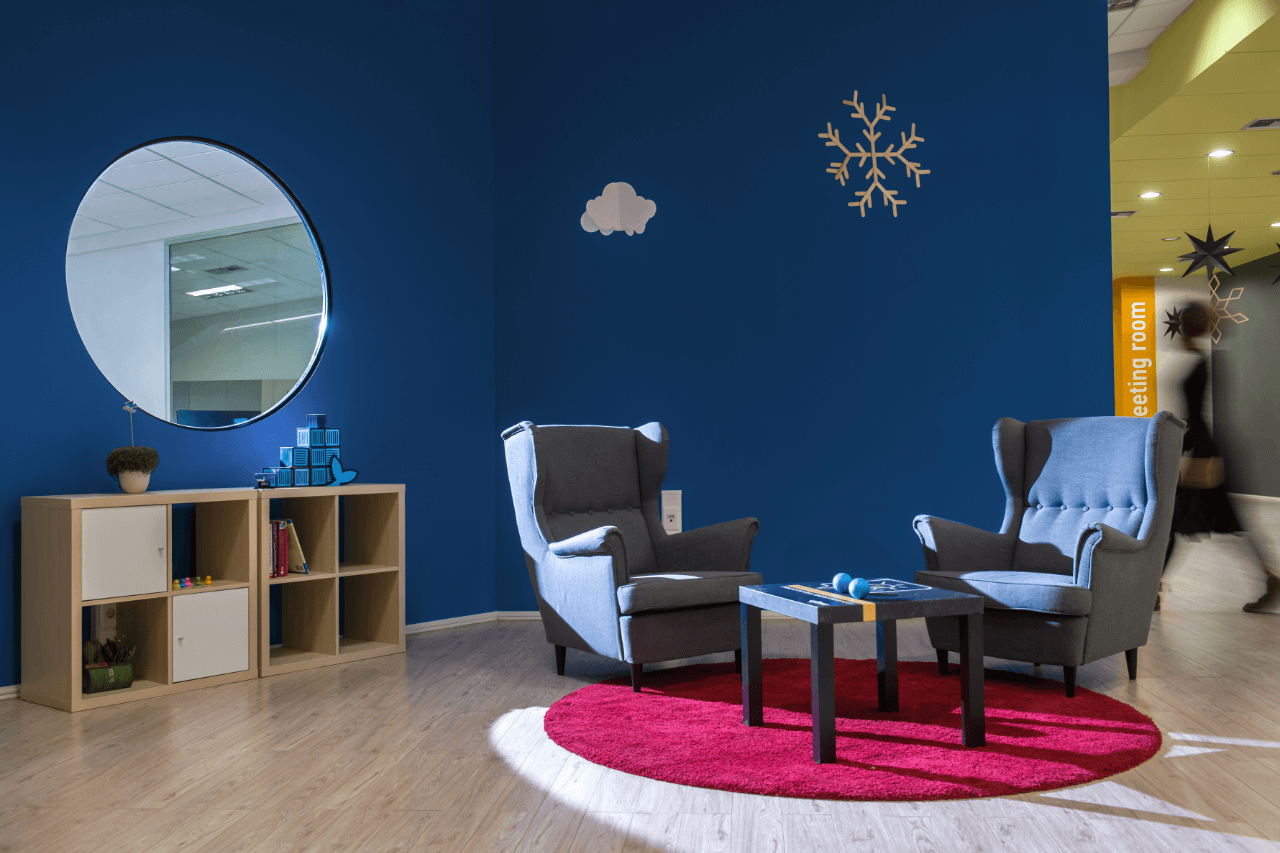 It worked great. Smaller teams stopped requesting meeting rooms and they were using these small areas for 2-3-4 people to exchange ideas, brainstorm with their teams or do 1:1 sessions. Everyone was happy but the number of our team kept growing. To make a long story short, today our team has 87 people, and our HR department is expecting us to reach 95 people by the end of 2020:
Team vs. Year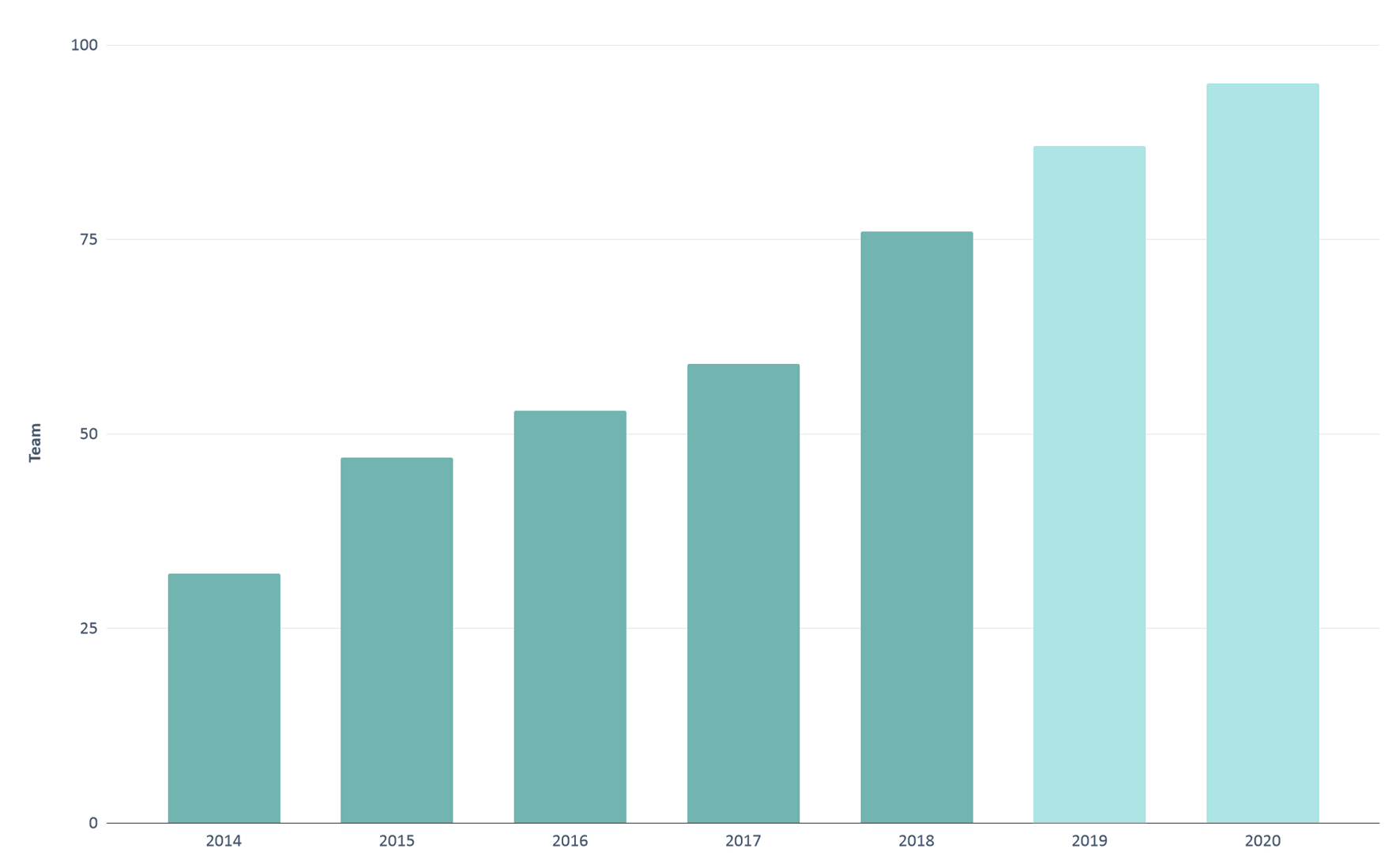 So again in terms of people, in a 5 year period, we would have been growing by 50%. If you are wondering where all our new people are landing inside the company, here is an idea:
Per Department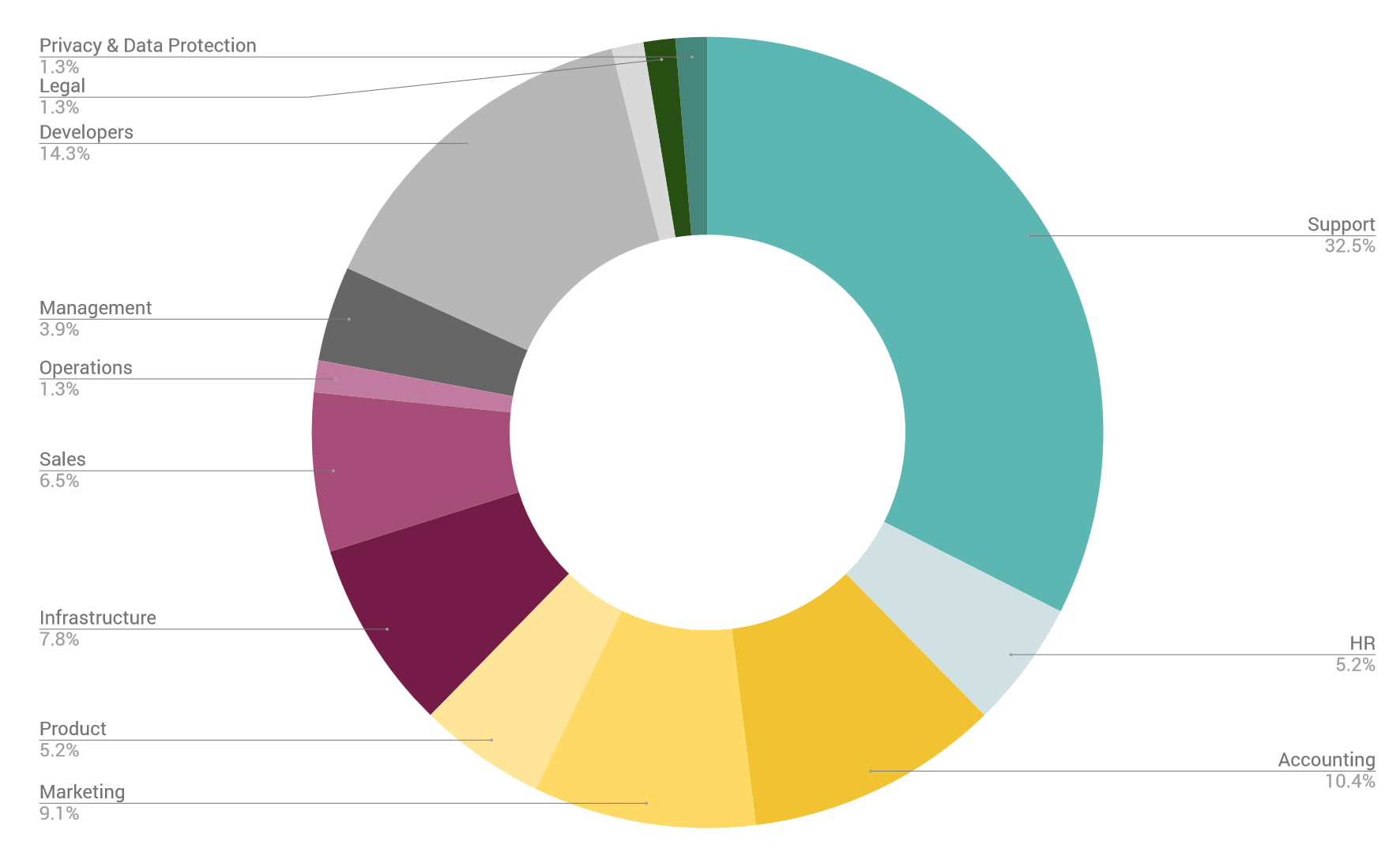 So as you can understand, we have converted every possible space of the office into working areas, but unfortunately, we can't do this forever.
What we have done to fix the problem
To start I would like to say that we are very lucky because all these years we have created a culture that is embracing remote work. So today we have the pleasure to have people working remotely for Enartia in different cities inside Greece (Athens, Thessaloniki, etc) as well as outside of Greece (Madrid, Belgrade, etc). For us this is the most important tool, because it is enabling us not to be connected to a specific town or office. We can be everywhere and we can talk to each other using tools like Slack, Google Hangouts and Zoom.
On the other hand we are creating new spaces, starting with two new office spaces inside FORTH which everyone can use as a co-working space to work from, or to be used as a training venue for teams. That said, we are always looking for new ideas for making the working experience of Enartians a more WOW experience. After all, this might be the perfect time to start looking for our new "New Office"!