Digital technologies have risen to prominence as a critical factor of economic growth, national security, and international competitiveness. The rapid progress in the tech space is leading to the development of digital products and services that influence various aspects of our life.
Right from education to business to personal wellness, technology is shaping almost all verticals for the sake of our convenience, efficiency, and better output.
Building a business in the tech industry
Despite there being a global crisis, now is the best time to put your ideas into execution and start building on that tech startup. The world slowing down can give you the necessary space to build and execute your business plan.
One of the key aspects when working on your tech startup is to ensure that you start the journey right and give your business the strong foundation that it deserves. This involves registering the right domain name and establishing a strong online identity.
A business in the tech industry can make itself stand out from competitors by registering its domain name on a new, relevant, and industry-focused extension such as .tech. Add it next to any word or phrase and it'll immediately establish a connection with the technology sector.
For example, a no-code AI platform can have a domain name such as www.buildyourai.tech or a business that's into smart homes could for a domain name such as www.smarthome.tech.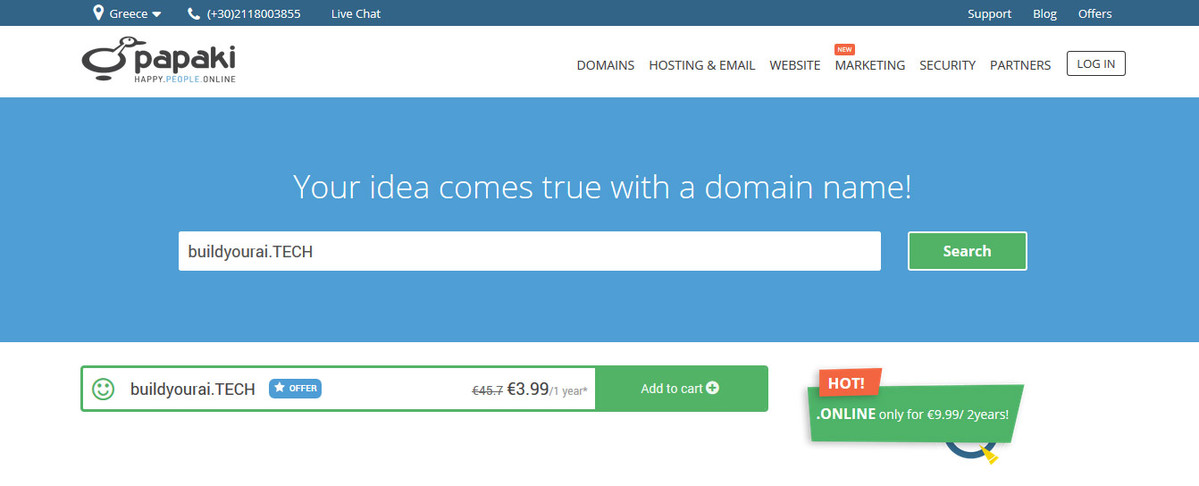 .tech is industry-relevant, keyword-rich, and meaningful for any business, blog, or individual who belongs to the tech industry.
2020 trends
In this article, we analyze the most prominent trends in the tech space in 2020 that's responsible for triggering a massive change in worldly affairs.
1. eCommerce
It was expected that an estimated 12,000 retail locations would close last year, but don't let the headlines skew your perspective — what perishes in the mall is being reborn online, and what was born online is increasingly crossing over into the physical world.
Overall, in 2019, the global retail market was expected to top $25 trillion. However, growth has slowed significantly compared with the previous five years and is not likely to pick up until 2023.
On the other hand, global eCommerce sales are expected to top $4.2 trillion by 2020, reaching over $6.5 trillion by 2023. By 2021, more than 2.1 billion shoppers are expected to buy goods and services online. Most of them are living outside of the U.S.
As per our analysis, while growth is becoming nearly stagnant in the global retail scenario, eCommerce is witnessing a tremendous rise.
2. EdTech
EdTech, or education technology, can be broadly defined as the use of technology to make the process of teaching and learning much simpler, easier to observe, and, most of all, more student-friendly.
EdTech has evolved dramatically over the past few decades from the simplest use of technology, such as audio-video tools, to moving on to cloud technology and massive online open courses (MOOC).
With digital content being the rule of the day, the K-12 EdTech companies are hugely investing in technologies such as artificial intelligence (AI), virtual reality (VR), and the Internet of Things (IoT) to design and conduct courses.
Some of EdTech's fastest-growing companies, such as LessonApp, School OS, and Gro Play, have designed products that provide the students with a unique learning experience.
3. Artificial Intelligence (AI)
AI is the simulation of human intelligence functions through machines and systems. Natural language processing (NLP), speech recognition, and machine vision are some of the major applications of AI.
The most prominent example of AI is voice search. The machine (here, your mobile device), grasps your voice commands, understands them, and performs suitable actions.
However, besides voice search, AI finds applications in much more complex situations. The latest advancement in AI is aimed at phasing out human intervention in redundant tasks (such as documentation, data entry, etc.) and, instead, automating them.
Since eCommerce is on an exponential rise, AI will play a crucial role in revolutionizing personalized experiences and recommendations based on customer's interests and browsing behavior.
Besides these, you'll witness a wide range of applications of AI in cybersecurity, manufacturing, healthcare, and other industries.
4. Internet of Things (IoT)
IoT is a network of objects – devices, machines, humans, and others – that facilitate the seamless collection, processing, and exchange of data over the internet.
To simply state, currently, you are living in a world that's mostly dependent on IoT. Right from sending voice commands to Siri to collaborating with team members on a project management SaaS platform, IoT is responsible for keeping your life in "sync."
This year, you'll see tremendous advancement in IoT as every component of it is undergoing rapid evolution, whether its AI, devices, machines, internet, or humans.
IoT is all set to transform and influence healthcare, smart home set up, blockchain technology, predictive maintenance, resource management, data analytics, SaaS industry, and more.
5. Small Business Solutions
In the small business ecosystem, a dynamic information and communications technology (ICT) industry serves as a prominent growth mechanism, delivering downstream value and boosting productivity.
Small businesses (SBEs), defined as companies with fewer than 500 employees, are the backbone of the U.S. economy and represent more than 99.7 percent of the 5.6 million U.S. employer firms, an essential component of the IT sector.
Through varied channels and cost-effective access to state-of-the-art technologies, small businesses have the basic support to stimulate innovation, commercial partnerships, and significant knowledge transfer within the small business sector.
As newer digital technologies (e.g., cloud-based services) mature and penetrate non-ICT segments, these advantages will emerge more pronounced.
More traditional tech tools, like mobile apps, will also grow to critical mass in the value chain for small businesses.
In Conclusion
The technological space is witnessing an exponential growth in startups that aims to solve real-world problems by creating solutions based on one of the five trends discussed above.
If you are an entrepreneur or a technological enthusiast working on a tech project, you can opt for .tech domain name to get started. Not only is it the perfect representation of your venture, but it also helps you in gaining traction on the web.