In previous years, the Papaki team has been together more online. Even though we were all familiar with this, we missed the face-to-face conversations. So, we were excited when we got informed that we would meet each other in Crete in the first live yearly event after two years. 
Here, we will reveal all we prepared for this special day to get to know us better and inspire you for your corporate events.
Backstage – the preparation
Perhaps the most enjoyable part – after the event – is the preparation, which is full of impatience and creativity. The HR team and the designers did their best to have a great time together.
The first email the Papaki team received was the announcement: we would gather at a central hotel in Heraklion, Crete, on Saturday, June 18, at an event with the motto "One United team.blue". What was even more important? It would be our first live meeting with our partners from team.blue after Papaki joined the European group.
The preparations were feverish to arrange tickets, hotels, etc., and organize presentations, goody bags, raffles, surprises, games, and puzzles. Of course, we had self-tests before the event for our safety.
The first One United team.blue event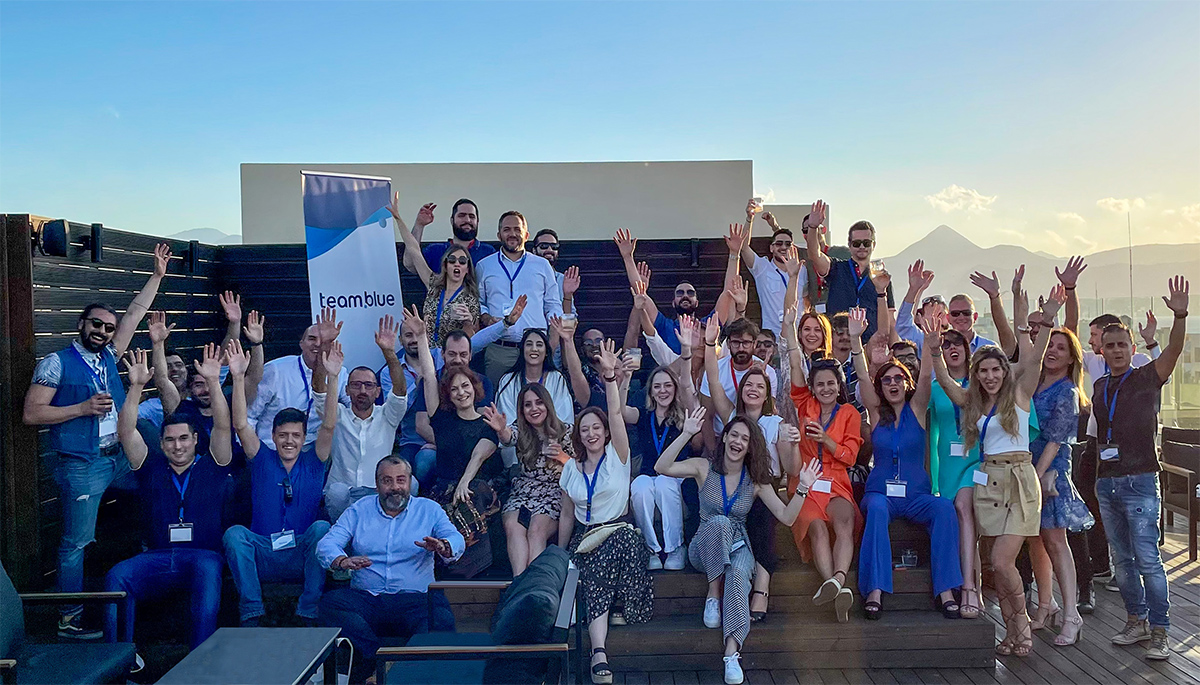 The first One United team.blue event passed down in history! It all started with coffee and breakfast and the colleagues introducing themselves to each other for the first time because of the previous covid situation. We entered the hall with great curiosity. We found a beautiful team.blue goody bag full of presents waiting for us in our seats. There was a souvenir mug with the group's values and a branded notebook, pen, t-shirt, and anti-stress ball.
We continued our day with the presentations of our European colleagues and the department managers. Each department presented its work for the last year, achievements, and future goals. New plans and renewed products are about to be announced, and we set the bar even higher. Together we can achieve a lot, and soon we will reveal more!
During the lunch break that followed, we had some talk in a relaxed atmosphere. Then, we returned to the day's program for games and some "speed races" with puzzles and riddles. The event was completed with appreciation gifts to colleagues and raffles that handed out great prizes, such as coffee makers, smart watches, bluetooth speakers, earbuds, and power banks.
The party we will remember for a long time
Closing that special day, the HR team had prepared a cocktail party with a dj, photos, selfies, and…a lot of fun! Many colleagues took the role of the dj, and we all were in a great mood. We danced, sang, had fun, and took a lot of energy and optimism. Big smiles are still on our faces.
At Papaki, we take care of our people, and our team is a key component of our success. If you want to become one of us, check out our vacancies here.