If you have a website, eShop, or blog, you are a developer or just love WordPress, then WordCamp Europe was the event you were waiting for especially this year that…it took place in Athens from June 8 to 10! 
Of course, the Papaki team could not be missing from the biggest celebration of the European WordPress community, which gathers the friends of the most popular content management system worldwide.  
Either you were somewhere around, or you…missed it, we are here for you. We have documented all we experienced, and we are sharing it with you in this post! 
This year's WordCamp had everything
So this year, the WordCamp agenda included everything: contributor day for the evolution of WordPress, top-notch speeches, workshops, impressive booths with a lot of gifts, competitions, swags, networking, and an after-party that none missed it.  
Contributor Day, Speeches & Workshops
WordCamp Europe 2023 started with Contributor Day, where 658 WordPress users came all together to evolve the beloved CMS, discuss and propose solutions, and, of course, meet each other.  
However you use WP, the agenda this year had 43 talks, more than 100 speakers in 3 conference halls (Track 1,2 και 3), and 18 Workshops covering all interests. The use of artificial intelligence in WordPress, such as AI translation, content creation and greater accessibility, WP plugins and what you should avoid, the future of e-commerce, online security, and the use of Gutenberg for better customer experience, are just a few of the topics discussed.  
The event concluded with a talk by Matt Mullenweg, the Automattic founder, and WordPress.org creator. He talked about variations on a Theme, of course, about the 20 years of the beloved WordPress. 
Do you want to know more? Then you can watch all the talks online per day and hall (Track 1,2,3) on the WordPress YouTube channel.  
WordCamp volunteers
However, none of this could have happened without the work of the volunteers. This year more than 140 volunteers participated from all over the world, and the members of the organizing committee were over 100.  
And we are more than happy to share that among them, in the organizing committee, and more specifically in the Attendees team, was our colleague, Marieta Christopoulou, Marketing Communications Manager at Papaki. 
WordCamp relies on the collaboration and volunteerism of people in the WordPress community. All these days, in every post or conference room, were volunteers around wearing distinctive white shirts with the WP logo, always willing to help with a smile. And together, they managed to carry out a top-level event that attracted 2600 participants from 94 countries! 
Thank you! 
WordCamp Sponsors & gifts for everyone
The whole organization of WordCamp is financially supported by sponsorships. This year 65 sponsors participated and the Sponsor Area was full of creative and impressive company booths that attracted all attendees.  
Games with targets, "road races", photo booths, competitions and raffles, gifts, and ingenious and useful swags "stole" the show and spread even more smiles, and gave more networking opportunities. 
Of course, we did not miss the chance to visit the sponsors' booths, play games, enter competitions, and win gifts. Here you can get an idea of the swags we won, and these are just a few!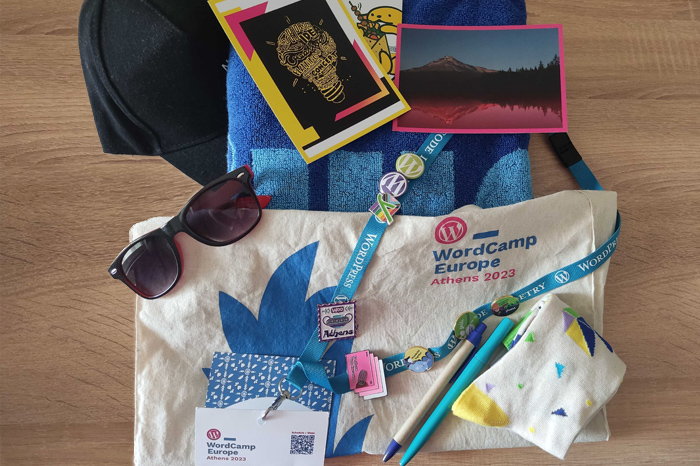 Networking & Afterparty
The walks to the sponsors' booths, the conversations, the talks, the workshops, the games, at every occasion, you had the opportunity to network, meet new people in the community and exchange ideas and experiences. And this is the best highlight of the event…the great mood and that we all become at the end one big company.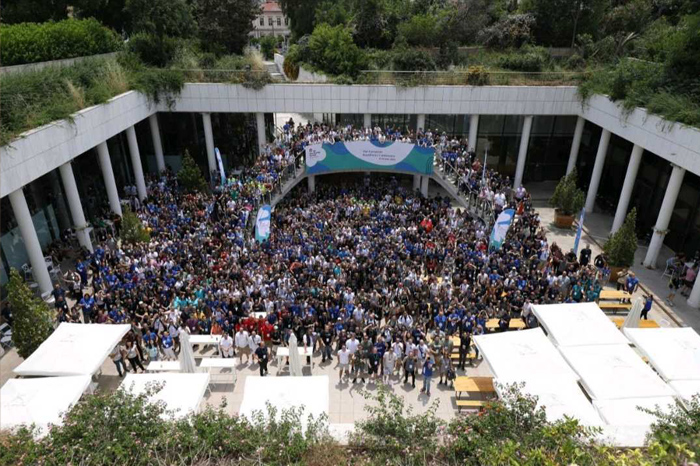 WordCamp Europe concluded just as it started, with a lot of fun and a great mood! The "After Party: Happy 20th Birthday, WordPress!" in the Lohan nightclub was just what we needed to end this beautiful meeting with a lot of music and dancing. 
Happy birthday, WordPress! 
Next date…
After all this, are you thinking about participating in the next WordPress event? 
WordCamp Europe 2024 has been announced and will take us to Turin, Italy. 
See you there, or tune in here for upcoming news because apart from WordCamp Europe, there are of course also those of the Greek community.