As the competition amongst online businesses becomes more intense, it is now essential for marketers to not just promote their products but also engage with their audience on an emotional and intellectual level.
Several big brands have resorted to content marketing by sharing information that is useful and of interest to their target customers. Take, for instance, the case of Red Bull, an energy drink brand that has become synonymous with extreme sports through content marketing tactics such as running a free online TV channel, organizing events and sponsoring sportspersons.
Content marketing can benefit small businesses even more. Pet Sitters Ireland started off as a small business striving to satisfy a niche need. But by addressing issues of genuine pet owners on its blog, it has grown to be one of Ireland's largest pet-sitting and dog-walking companies in just six years.
If you're looking for a solid content strategy that makes your brand stand out and improves audience engagement and conversions, the six tips mentioned below can help you get started.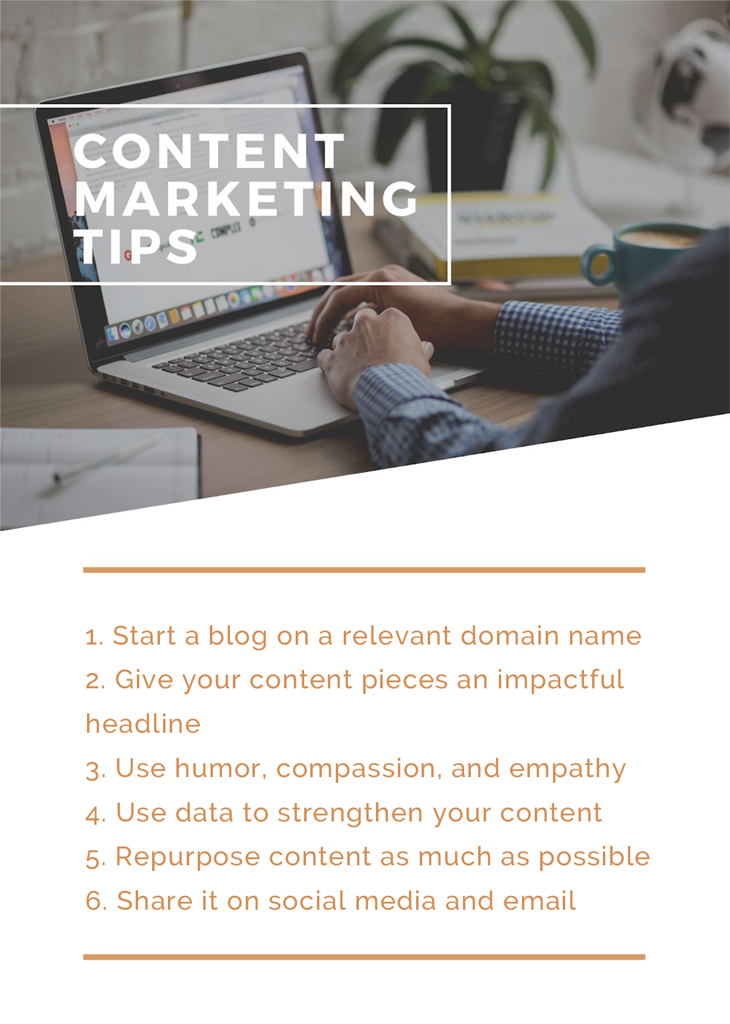 1. Start a blog on a relevant domain name
A great way to lead users to your content without it seeming like a sales push is to host good quality and valuable content on a blog. However, just building a blog isn't enough. It needs to have all the necessary aspects to make it a successful venture. Two such aspects that are crucial include:
A domain name that makes it stand out from other blogs
Articles that answer questions and add value to the reader
Host your blog on a unique domain name such as www.allaboutmaths.online. New domain extensions such as .SITE, .WEBSITE, .SPACE, and more allow you to get domain names that are short, simple, memorable, and help you stand out.
You can use this blog to share useful information about the subject on a regular basis until it becomes a library of useful resources. So, in the future when someone has a question, they can easily go to this domain name and access it.
2. Give your content pieces an impactful headline
A meaningful, captivating headline that can entice a reader to peruse your content is the first step towards connecting with your audience. The perfect headline is one that is:
Relevant
The headline should clearly indicate to the reader what the content is all about. Most readers will not waste time on a content piece unless they are fairly convinced that it carries the information that they need.
Keyword-rich
The headline should have the target keyword along with other contextual words to make it SEO-friendly so that it features within the top results on search engines.
Catchy
There is nothing wrong with using a bit of witticism in your headline, especially if it can elicit an emotional response from the reader. However, it is imperative to maintain clarity as no user would like to waste time figuring out what you're trying to say.
3. Use humor, compassion, and empathy
The idea behind content marketing is to take your relationship with the customer beyond the transactional aspect. Take some time to reflect on your brand's story.
Did you create your business out of a personal need or experience?
What are some of the humorous and emotional events of your entrepreneurial journey?
Are there any causes that you feel passionately about?
Is your organization involved in any volunteer work?
All these talking points will help you leverage on the humane aspect of your brand. It'll help you create something that people can relate to and form a connection with.
4. Use data to strengthen your content
While it is remarkable to be able to strike an emotional chord with your customers, don't forget that the purpose of content marketing is to also guide their decisions through information. Populate your content with data from authentic resources to add to its credibility and establish yourself as an expert in your field.
Taking a clear stand and backing it up with reliable evidence can help establish you as an authority figure not just in the minds of customers but also in other websites. This, in turn, can improve your chances of earning quality backlinks which positively impact your Search Engine Results Page (SERP) rankings.
However, make sure that you are not overwhelming readers with data. Try to present it in easily consumable forms such as infographics, pie charts, videos, and images.
5. Repurpose content as much as possible
Creating stellar content requires hard work, and it is only fair to you that you get the most mileage out of every single content piece that you create. Creating new and topical content regularly is important, but not every piece needs to be created from scratch.
There are many ways of repurposing existing content into something new and fresh. For instance, a blog post can provide material for a video, a long-form article can become a listicle, which can also take the form of an infographic.
Repurposing works brilliantly in the case of evergreen content. Take, for instance, a recipe blog. A recipe in text format can easily be made into an engaging video with a high visual impact.
6. Share it on social media and email
Once you have a blog hosting top-notch content, it is equally important to share this content on various social media channels to drive more traffic towards it. Most people will visit your website when they see it on their social feeds through posts that pique their interests. They may even help you reach out to others by sharing your content on their social handles. Make social sharing easy for them by providing share buttons on your content pages.
You can also set up automated email alerts for new content to be sent out to people in your mailing list to keep existing customers interested. A newsletter is a great content marketing asset to share over email with your subscribers.
Conclusion
It is now apparent that customers demand more out of a brand than just the need its products or services fill. With the right content marketing strategy, you can transform your brand as one that people look up to for expertise, empathy, and inspiration.