For the entire world, June is correlated with the coming of summer and the first dives in the deep blue waters. But for tech lovers and more specifically for WordPress enthusiasts, June means WordCamp Εurope!
This big celebration of the European WordPress community takes place, over the last years, on the first hot month of the year and is a reference point for all those who love the most popular content management system in the world. Volunteers, speeches, workshops, networking, a lot of fun, swags are some of the basic ingredients of each WordCamp Europe recipe.
This year, the meeting point was in Berlin. So we had to be there. After all, we have never denied our love towards WordPress (in fact, there is an entire section dedicated to WordPress in our blog!), and so we visited Germany's capital from June 20 to 22, and we did not miss anything that took place at Estrel Berlin, the venue where WordCamp Europe 2019 was held.
Now that we came back, we would like to share our experience with you, with the help of numbers! Below you will be able to find some truly interesting statistics and our comments.
60 speakers
WordCamp Europe 2019 was filled with interesting speeches for every single WordPress lover. WordPress for NPO, the art of networking, modernization of WordPress plugins and themes, designing Gutenberg block, content accessibility, customer service, tips on saving time, multilingual WordPress sites… These are just few of the topics covered by speakers at Tracks 1, 2 and 3. You can watch any speech appealing to you even now, as they are all available at the WordCamp Europe channel on Youtube!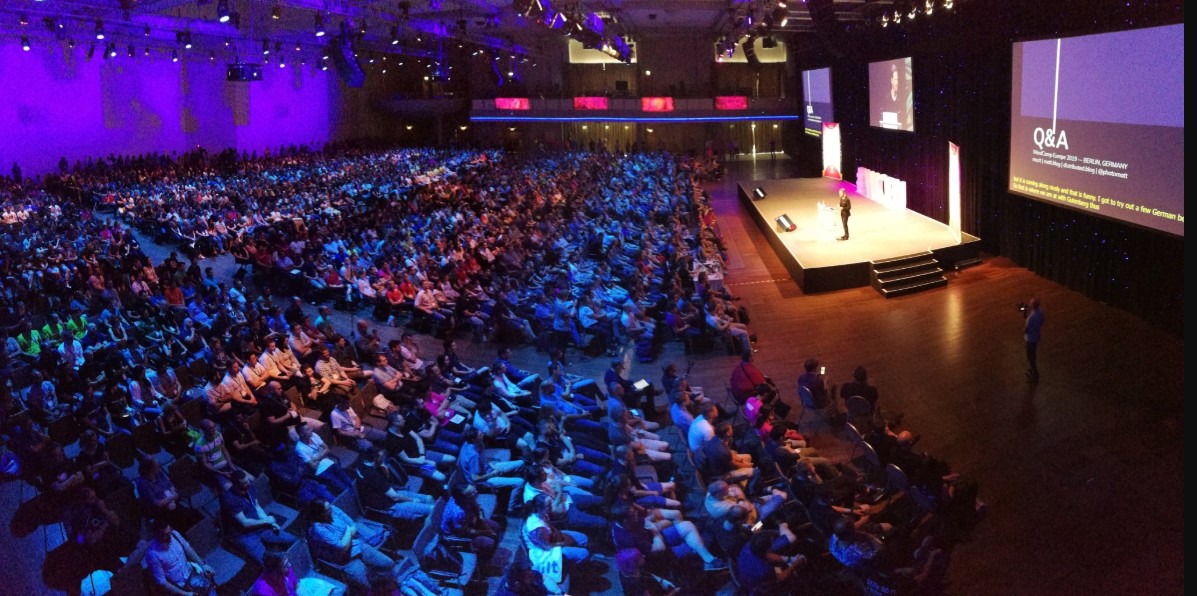 In any case, it is worth listening to the speech of Αutomattic's founder (this is the company owning WordPress), Matt Mullenweg. Mullenweg focused on Gutenber Editor and its potentials, which are already acquired or being developed as we speak.
Furthermore, apart from the central stages, there were speakers at the WP Café, along with interesting Workshops. You just had to arrive pretty early in the morning, so as to manage and get a seat to those.
167 volunteers
WordCamps could not be held without volunteers. Be it local events or this big, European WordCamp, they all have volunteerism in their core and are based on people who wish to contribute to the WordPress community in return.
This year, 167 people worked voluntarily for WordCamp Europe. In each post, there was a volunteer serving attendants and making sure that everything ran smoothly, wearing their distinctive pink T-shirt. Extra bonus, the good vibes and huge smiles of all volunteers!
By the way, 3 colleagues from Enartia were among those 167 people. We even took a selfie, while of course everyone got on stage for the group photo.
150 micro-sponsors
The power of WordPress community is also evident in this ticket category! 150 people bought "simple" tickets, for a price of 150 euros rather than 50 euros. The reason is none other than enhancing the event, so that it remains accessible, without losing anything in terms of quality.
60 sponsors
Sponsors are surely necessary for covering most part of the event's expenses, keeping the ticket to a minimum. However, this is not their sole contribution! They also get credits for the "playful" vibes of everyone attending the event.
The Sponsors Area, a large area with kiosks from all sponsors, was the best for fun strolls. You could play games and win wonderful gifts or just win wonderful gifts, by talking to the companies' representatives for a while.
We designed a digital graffiti at the awesome stand of WooCommerce, we played "claws" at .me domains stand, we wrote down what we love the most in having our very own website at the stand of JetPack, in between engaging in interesting conversations and learning new cool things.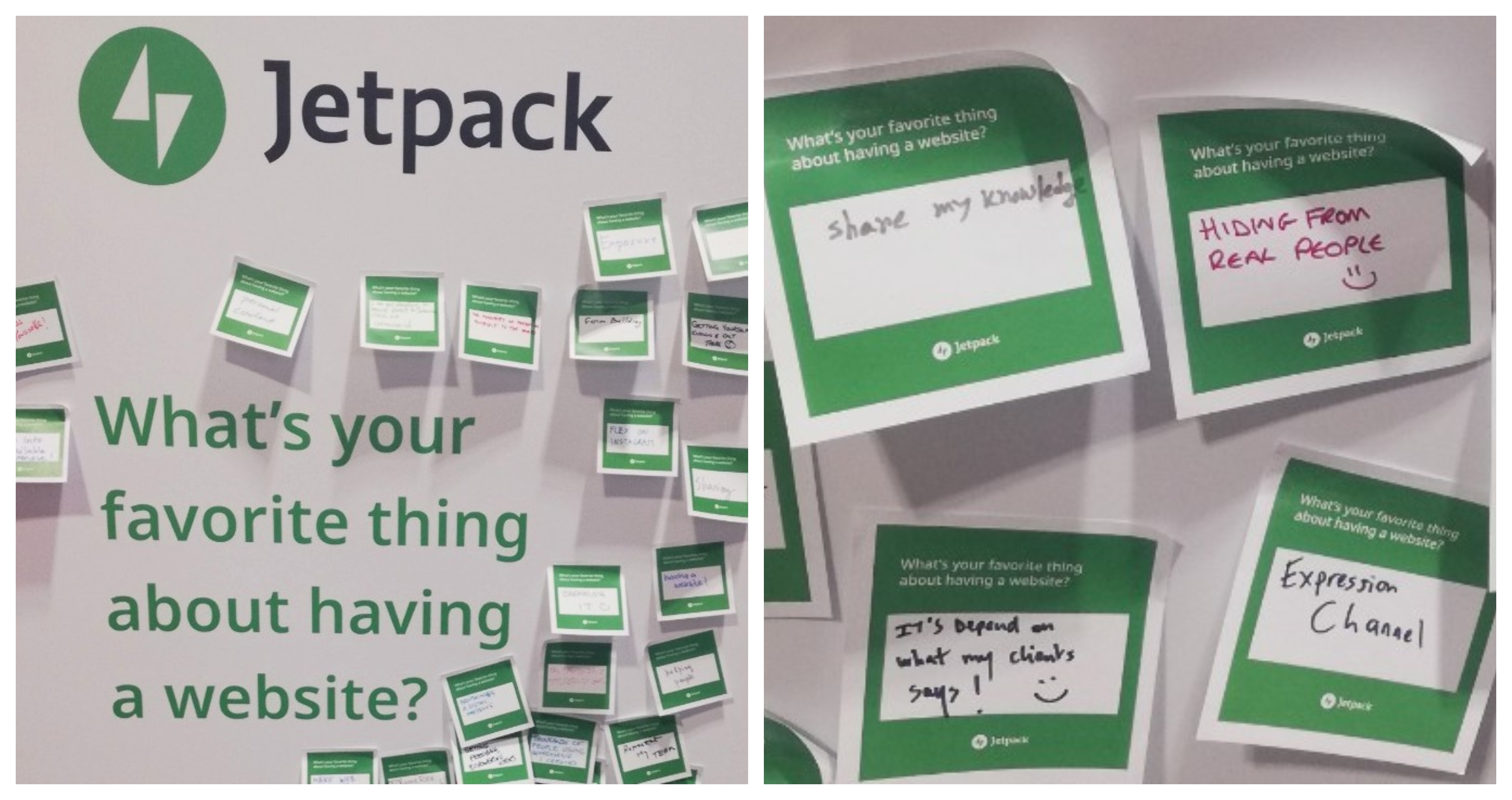 3,260 tickets
WordCamp Europe 2019 was the biggest that has ever taken place so far, since 3,260 tickets were sold and 2,734 people came to Estrel from 97 countries in total. From them, 1,722 attended this event for the first time!
Attendance was impressive, but what matters the most is the fact that everyone had hundreds of opportunities to indulge in networking. This event is a great opportunity to meet like-minded people with similar interests, chat about things you have just learned or heard…and maybe you get to speak some words, learning foreign languages.
1 Fun After party
Having fun is an inextricable part of every WordCamp Europe. This year, a fun After party was held upon wrapping up the event, themed at the '80s. And of course, there was no formal suggestion for walking around the streets of Berlin. But it is sure that we all came up with some time to enjoy the German capital and relax, after a day overwhelmed by new information.
2020…
Now that you have come to this part of the article, we think that you have already managed to get a taste of the event and you have discovered all the reasons why you should not miss the next one! Or maybe, not all the reasons…Because we have not yet shared with you the next location. In 2020, WordCamp Europe will be traveling to Porto of Portugal! Meet you there?