After getting over with Black Friday, the time came, once again, for us to start designing booths, order swags, but mainly organizing the team which will "depart" to Greek community's WordCamp. This year, we go to Thessaloniki. WordCamp Thessaloniki 2018 will take place on December 15-16,  at the town's Concert Hall.
In Papaki we love WordPress and we don't say this lightly. We use WP for our own websites – our blogs and other projects use WordPress – but for our customers also, since we provide two personalized services: Managed WordPress Hosting & Managed WooCommerce. We have also created a series of Plugins to give a solution to every WP user.
Why we support WordCamp
This is not the first time we sponsor WordCamp of Greek community! We have been Gold Sponsors for 3 consecutive years. We support this event with our heart and soul. But, why would someone want to support this event? First of all, we all understand that this includes commercial incentives – and we do not hide this. However, our main reasons are the connection we want to maintain with the very active WordPress community, the non-profit character of the event and the rewarding feeling of giving back to the community. We see WordCamp as a festivity. We put on our "good" clothes to go and talk with ALL of the participants, to listen to their opinions, to get feedback for our creations and (if we manage) to listen to some of the very interesting talks taking place there.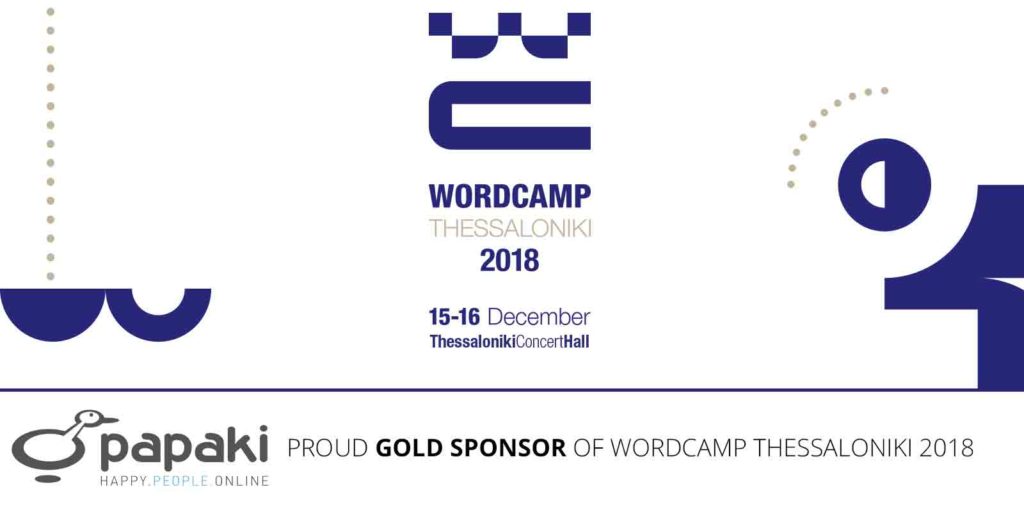 Why you, too, should participate in WordCamp
WordPress is now the most popular CMS, with 32.4% of the websites using it globally. Some would call WordCamp Thessaloniki the Panhellenic conference for WordPress. If you are a developer, blogger, digital marketer, but also a designer or an SMB owner, you will surely be interested in it. Imagine 500 people, everyone familiar and relative to WP, gathered for a whole day in one place, aiming to get informed through the talks and interact through the networking taking place during the coffee or food breaks. In my opinion, you should not miss this for any reason!
On the website of WordCamp Thessaloniki you can find useful information about the event's timetable and talks, which team organizes it and, of course, book your ticket. The cost is minimal (€20) compared to what you will actually (l)earn from this event!
Of course, WordCamp events take place in many countries in the world. There also larger-scale WordCamp events, like WordCamp Europe and WordCamp US. You can follow WordPress in every corner of the planet, even in your city. Yes, you read right! Apart from WordCamps, there are also WordPress Meetups, which share a more local character – city-wise – and are smaller in duration and variety. However, they are equally interesting and effective. In Greece, WordPress Meetups take place in Athens, Thessaloniki, Larisa, etc.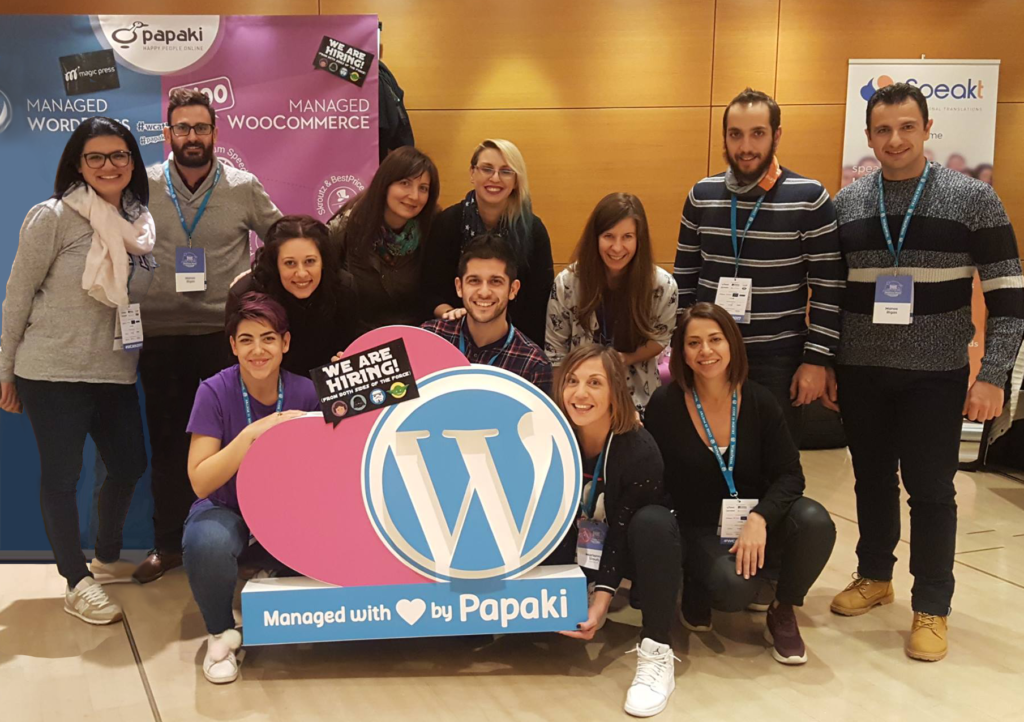 As you understand, if you start using WordPress, only positive things will come along your way. The help you will receive from the Greek and the global community is really valuable and important. Also, most hosting providers – like us – are not only familiar with WP, but have also created dedicated services and employ top-notch WordPress technicians.
If you attend WordCamp Thessaloniki 2018, you can pass by our booth. Papaki's team will be there, loaded with gifts just like Santa Claus (don't say you're not a believer!) and willing to answer every question regarding our services. You will recognize us quite easily, as we will show up wearing our own t-shirts. We will be waiting for you!